SPEAK ON IT! Should You Throw Your 'Friend' A SURPRISE Divorce Party? Kenya Moore Did, And It Did Not End Well
Mar 20 | by _YBF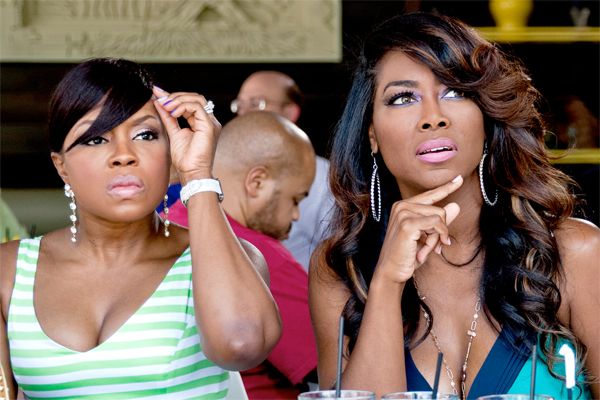 Kenya Moore thought she was doing a good deed by throwing a surprise divorce party for Phaedra Parks and Cynthia Bailey. But, Phaedra was NOT here for it. Is it appropriate to throw your friend a divorce party without consulting with them first? Speak on it inside…
Kenya Moore thought she was doing something good when she decided to throw a surprise party for Phaedra Parks and Cynthia Bailey to celebrate their pending divorces. But, it definitely didn't go the way Kenya thought it would.
On last night's episode of "Real Housewives of Atlanta," Kenya Moore thought it would be fun to celebrate their last night in Hawaii with a fun party. You know, since Kenya and Phaedra have been seemingly working on their friendship, Kenya tried to bring some joy to a sad situation. Well, it didn't go as Kenya had planned.
Phaedra was extremely upset that the ladies would make light of a family being broken up and felt they were making light of the institution of marriage. In fact, Phaedra was even more upset that—of all people—Kenya would host the party because she feels she had a lot to do with her breakup from her ex-husband Apollo Nida.
"These women are over here like hyenas, mocking the sacrament of marriage. I want no part of this," Phaedra said.
While speaking with her bestie Porsha Williams, Phaedra asked, "Do they not respect the institution of marriage and what it stands for? Who makes light of that? They celebrate destruction. And I've made it very clear, I do no care to speak with anyone outside you about anything going on with me personally. I don't want to celebrate my children losing their father. It's just tacky."
Phaedra went on to call Kenya "disgusting" after leaving the party. She sent Porsha a text that read, "I'm appalled that they would think the breakup of a family is a cause for celebration. And with the host being the trifling woman who was texting my husband? Disgusting and disgraceful."
Damn.
We all know Kenya is known for pulling tricks and being super shady, but did she this time? She DEFINITELY should have consulted with Phaedra and Cynthia (who also wasn't really feeling the party) before putting the party together.
Check out Kenya and Phaedra's exchange after the party below:
And here's a clip of Phaedra speaking to Cynthia where she confirms her divorce from Apollo has been finalized:
So, should you throw you friend a surprise divorce party or nah?
BONUS:
To celebrate Peter Thomas' birthday, the gang put on a ROAST, cracking jokes on the birthday boy. Peep a clip of the fun below:
We see Solange was tuned in and enjoyed it:
Peter Thomas handled the roast like a G
Sheree's face after her roast in the confessional room will never leave my memory

— solange knowles (@solangeknowles) March 20, 2017
I'm gonna miss Peter and Cynthia:(
Peter's white suit w the green shirt

— solange knowles (@solangeknowles) March 20, 2017
lol at porshas walk w the henn bottle yasss

— solange knowles (@solangeknowles) March 20, 2017
Photo: BRAVO