The 5 Things You Must Know From Kerry Washington's Gorgeous & Smart GLAMOUR Cover Story
Apr 05 | by Natasha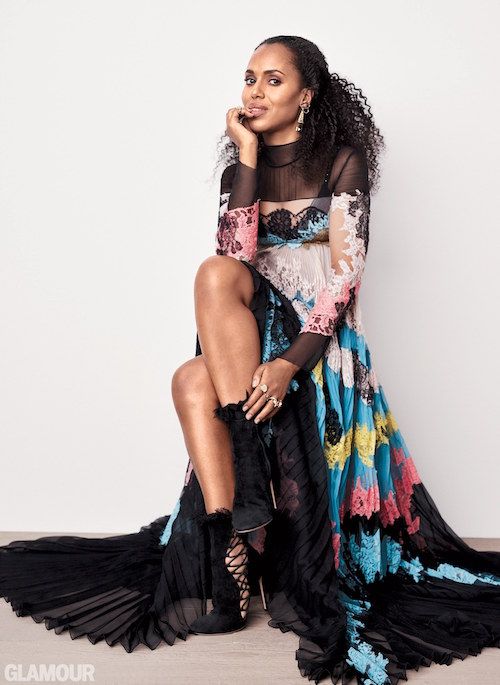 Kerry Washington is walking perfection, and GLAMOUR magazine got into just how she got to this flawless point in life. The five things you MUST know from her bare-all cover story....
The "Scandal" star has been busy expanding her acting portfolio to executive producing new projects through her new production company. And she's been lending her voice to causes from police brutality to women's rights. The hot wife and mom is talking to GLAMOUR magazine about it all for the new issue, and she dropped some gems in her May 2017 cover story with writer, actress and artistic director of the Women's March on Washington, Paola Mendoza.
5. On life in her 40's
Life is just getting better. For me, 40 feels like a beginning. I'm in the middle of so much new—with this career, the kids, and I'm still sort of a newlywed. I'm excited to be at this stage in life.
4. On how much longer she'll play Olivia Pope:
It's not really up to me. It's up to Shonda [Rhimes, Scandal's creator] and to the network. Shonda has said from the beginning that she kind of knows how it ends. So I'm trusting her to guide the arc. It's also important for me to do other work—and playing Olivia gave me the opportunity to become a producer. The charge of my production company, Simpson Street, is to tell stories that are about people, places, and situations that may not always be considered by the mainstream. Inclusivity is not about, you know, creating a world where straight white men have no voice; it's about creating a world where we all have a voice. So I'm excited to start that new journey, as a producer.
3. On why "Scandal" is now incorporating race into the storyline much more:
In the first season it was as if Olivia Pope was raceless. There was no denying that Olivia was a black woman, because I'm a black woman, playing her in badass white trench coats that call to attention the fact that I'm not looking like anybody else on television. But we didn't talk about her identity as a black person.
[Since then] the writers have become more and more willing to deal with race. When Olivia was kidnapped, it was not lost on me that the fictional president of the United States was willing to go to war to save one black woman at a time when hundreds of black women were missing in Nigeria and we were begging the world to pay attention. Shonda was saying, "The life of a black woman matters."
2. On self care as a mom of two with a crazy busy career during trying political times:
Sometimes, when we're feeling challenged in life, we feel a pull to isolate, and for me part of the joy of being a wife, a mother, and in a cast of friends is allowing myself to be in spaces of love. So being open to that love. Then, for me, self-love is like: Am I sleeping enough? Eating well? Not: Am I eating well to be able to fit into my skinny jeans? But: Am I eating well to be healthy and strong? And to acknowledge the good, because there is always a lot of good.
1. On where her optimism stems from, and being a descendant of slaves:
My deepest desire is to create a world where there's room for all of us, where no matter who you are, you get to wake up in the morning and know that you are worthwhile and deserving. If that's the world I want to live in, I have to do the work to make that true for me. I have to do the work of self-love and affirmation, and say, "I am a woman, I am a person of color, I am the granddaughter of immigrants, I am also the descendant of slaves, I am a mother, I am an entrepreneur, I am an artist, and I'm joyful." And maybe in seeing my joy, you can finish your sentence with, "And I am joyful too."
More fab looks and video from her spread blow:
Valentino dress, Oscar Tiye boots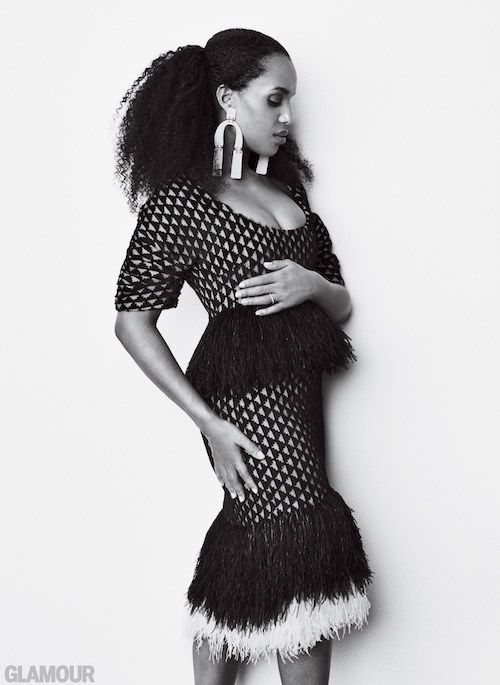 Proenza Schouler dress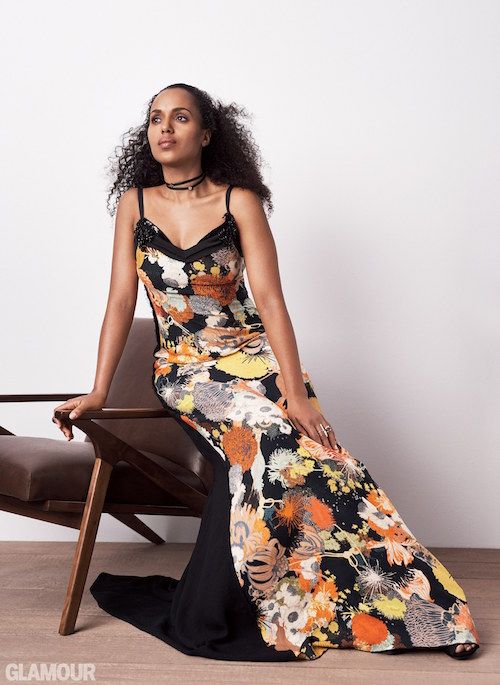 Dries Van Noten dress and heels, Dior choker
And she had her super cute pup Josie on the set with her:
Ugh, we for real can't love Kerry any more than we do. Get her full interview over at GLAMOUR.