Dez Bryant Says Shannon Sharpe Twisted His (Interesting) Words About Race Relations In America. Do You Agree?
Apr 12 | by _YBF
Dez Bryant offered up his views on race relations in America, which promoted Shannon Sharpe to passionately respond. Hear both of their arguments and decide who you agree with more inside…
Dez Bryant did something he normally doesn't do. The Dallas Cowboys wide receiver hopped on social media to share his thoughts about racism in America and it definitely ruffled some feathers.
A few days ago in a four-part Instagram post, Dez decided to preach about blacks taking personal responsibility. He reflected on past personal experiences, and he specifically pointed out that black Americans should stop blaming the white man for their issues and should start leading by example: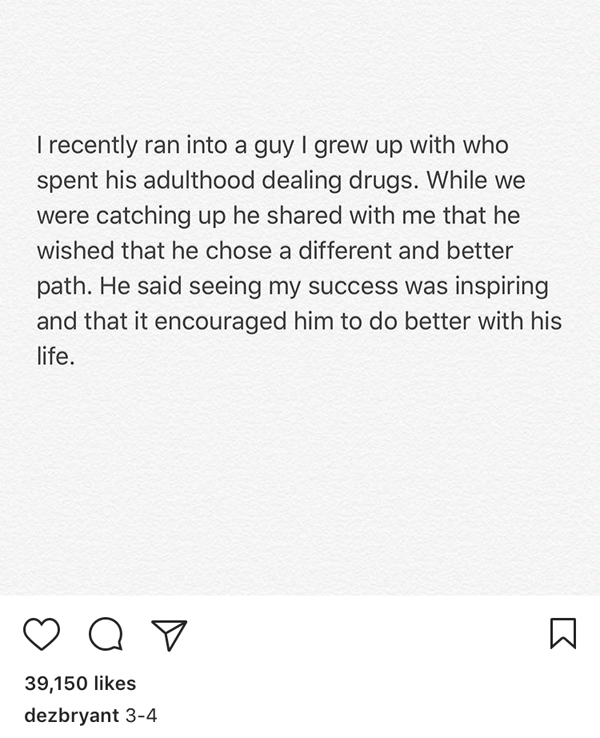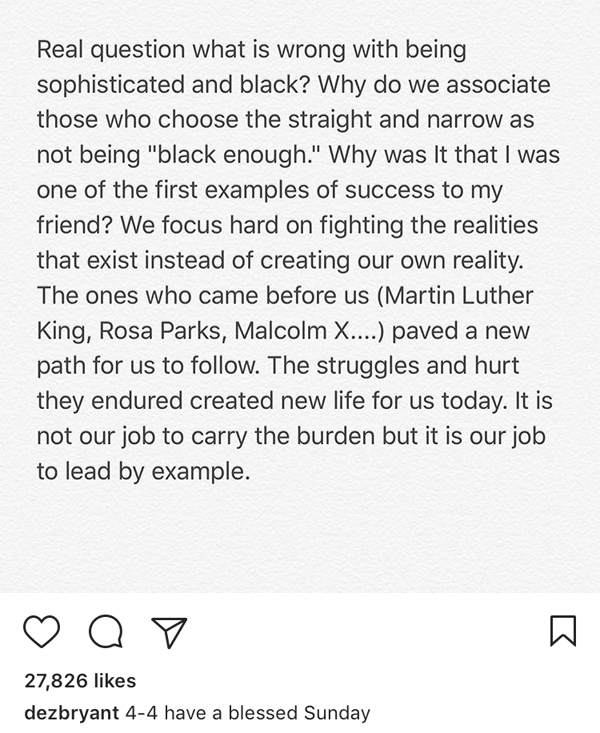 While that all sounds good in theory, an educated person is well aware of the systematic oppression that causes most of the issues plaguing minority communities. It's easy to be socioeconomically and psychologically and emotionally sound when America isn't set up to prevent and attack all those things for your race and culture.
Fox Sports commentator and NFL Hall of Famer Shannon Sharpe, who's in a relationship with a white woman, took offense to Dez's comments and issued an emotional response on FS1's "Undisputed." In his response, he credited the NFL player for having his heart in the right place, but said his words came out totally wrong.
"Dez, you're not even in the 2%, you're in the .01% of black America that makes millions, but they're so many that don't. Dez, do you realize you're still black? They still view you as black even though you catch touchdowns for the Dallas Cowboys? Do you realize that? You think they view you differently? They applaud what you do Dez you do Dez, they don't applaud who you are. I commend him still, but he is so wrong. He's so absolutely, horrifically wrong in this situation. I hate when they ask us to accept responsibility for slavery. Accept responsibly for the 400 years of institution and systemic racism."
Peep the clip below:
No lies told there.
Yes there is some personal responsibility, but that is not the root of the problem. The root is systematic oppression that cause certain socio economic classes' psyches and how they go through life. Yes, some people can "beat" the system due to talents they have and what type of family they're born into. But, that's NOT most people.
One way to start tackling systematic oppression is for it to be recognized and vocally condemned by oppressors and the white community, especially those who are in a relationship with a member of an often oppressed community.
Dez responded to Shannon's criticism explaining that Shannon twisted his words and said he would appear on the show to clarify what he meant:
I have to go on this show... @ShannonSharpe you are absolutely wrong how you twisted my words... pic.twitter.com/Hk8hdhCngK

— Dez Bryant (@DezBryant) April 11, 2017
@domuigi God gave me this ability to have a voice to share my experiences with others so they can see if you want better.. you will be better pic.twitter.com/SYDk8YHSx1

— Dez Bryant (@DezBryant) April 11, 2017
Thoughts?
Photos: Getty