Video Vixen In Kendrick Lamar's 'Humble' Video Talks Multicultural 'Struggle' + Stevie Wonder Gears Up For Jamaican Wedding
Apr 12 | by _YBF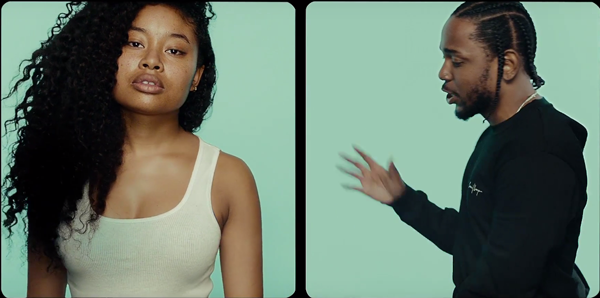 The video model in Kendrick Lamar's "Humble" video is speaking out amid controversy over her natural looks. Get the details on her multicultural "struggle," plus new reports about Stevie Wonder trekking down the aisle for the third time inside…
It's safe to say Kendrick Lamar's "Humble" lyrics and video has everyone bumping their gums. From multitudes of people praising him for his empathetic lyrics, to folks complaining K-Dot rapping about African-American features only to cast a model whose ethnicity may or may not fit the description.
One of the most noted rhymes on the track is when he said, "I'm so f*ckin' sick and tired of the Photoshop/Show me somethin' natural like afro on Richard Pryor/Show me somethin' natural like ass with some stretch marks"
Yet, he chose a model whose afro looks nothing like Richard Pryor's. So yeah, we get where some are coming from.
Now, the model featured in the clip is speaking out to address the controversy.
21-year-old Carter Kim chatted with ELLE magazine (rolls eyes) about how the black women's opinion of her has been hurtful. Someone even dubbed her "sugar brown mama with a Brazilian body wave frontal."
"That part is extremely frustrating. I used to get teased for my hair and told my hair is fake. I'm a little puzzled because a lot of it comes from African American women. I'm just like, why wouldn't you empower another African American woman who's just trying to pave the way for her career and also just represent us as women in a music video that has now gone viral. I would just think they would be happy with that, but everyone finds something."
She said being multicultural in the industry has been quite the journey. She's either "too pretty" or too "multicultural" for a role and she said she has been denied a role for not being black enough as well.
"[I've] gotten a few different odd responses from black producers, when they're like, 'are you just Filipino or are you just Asian?' A lot of people don't really see that I am black. It's been a journey. My mom is full Korean, but she's adopted, so she's very Americanized now. I am Korean, French, and African American, and that's what I am aware of. My dad is black and French. I have gotten denied by some agencies and some projects for either being too multicultural or even being 'too pretty' for a role. … I've gotten denied for being black a few times. Surprisingly, that has happened and I have gotten 'not black enough.'"
The video vixen shared what was told to her about the video before shooting:
"They basically told me: 'You are the natural girl that is represented in 2017 in the society that has a ton of imperfections, but still loves herself and still doesn't care what anyone else thinks.' And also: 'You are the music video girl vixen. You are that very exotic pretty girl that the normal girl transforms into,'" she says. "I was very blind going into it."
Very interesting. Peep the video below at the 1:43 mark to what has folks in a frenzy:
What are your thoughts on Kendrick (or the powers that be) tapping Carter for the video treatment? /p>
In coupledom news...
They say third time's a charm.
Stevie Wonder is gearing up to head down the aisle for the third time to wed his longtime girlfriend Tomeeka Bracy, the mother of his two youngest children. The nuptials are set to go down in Jamaica on June 17th.
The Daily Mail reports the 67-year-old singer and his 42-year-old bride-to-be will exchange their "I Dos" before a room full of star-studded guest and family. It's also reported Stevie's other children from his previous relationships (aged between 42 and 11) will serve as bridesmaids and groomsmen.
Stevie and Tomeeka began dating after he split from his 2nd wife Kai Millard. He was first married to Motown singer Syreeta Wright and they divorced in 1972.
Early congrats to Stevie and his bride-to-be.
Photo: Screenshot/Getty