Aaron Hernandez's Lawyer, Agent Don't Think He Committed Suicide
Apr 19 | by Natasha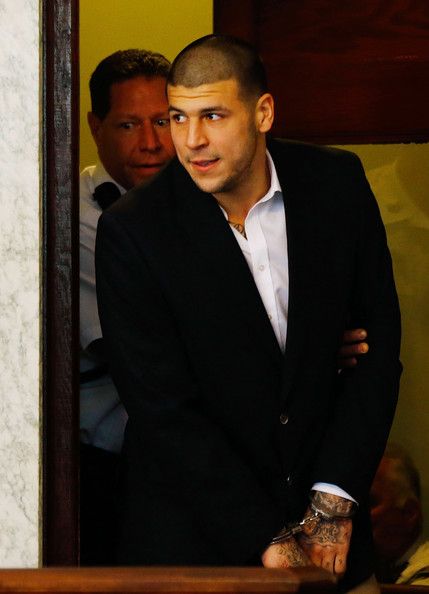 After this morning's shocking news of former NFL player Aaron Hernandez's apparent suicide, his lawyer and agent are simply not buying it. Deets inside...
Aaron's lawyer Jose Baez says not only was this apparent suicide out of character for his client, but he feels murder could be the actual cause of death.
Baez has launched an investigation into what really went down between those Massachusetts prison walls, as he's convinced Hernandez's death very well could have been murder orchestrated by authorities.
TMZ reports:
We've learned attorney Jose Baez -- who just got a not guilty verdict for Aaron last week in the double murder case -- has launched an investigation on behalf of Hernandez' family and they are not buying the suicide story.

We're told Baez believes this could be a murder either by inmates or the folks who run the prison.

Baez says the family is "devastated" and does not believe Aaron was in a frame of mind to take his life.
Earlier today, Jose said Aaron gave no indication that he was even considering taking his own life, especially since he was just acquitted of most charge in a double murder case on Friday. Ina statement, Jose revealed:
"There were no conversations or correspondence from Aaron to his family or legal team that would have indicated anything like this was possible. Aaron was looking forward to an opportunity for a second chance to prove his innocence. Those who love and care about him are heartbroken and determined to find the truth surrounding his untimely death. We request that authorities conduct a transparent and thorough investigation."
Jose also says they were optimistic about beating the life sentence for the murder conviction he's currently in prison for.
Aaron's former agent said:
Absolutely no chance he took his own life. Chico was not a saint, but my family and I loved him and he would never take his own life.

— Brian Murphy (@A1Murph) April 19, 2017
NFL players are also chiming in. Antonio Cromartie tweeted:
I thought he was about to appeal his case. Wow
Aaron Hernandez was 27.
Photo: Getty