Charlie Murphy Is Laid To Rest In NYC & All Of The Kings Of Comedy Pay Their Respect
Apr 21 | by _YBF
Comedian Charlie Murphy was laid to rest in NYC this week and his memorial service looked like a comedy hall of fame event. Peep pics of Cedric The Entertainer, Dave Chappelle, DL Hughley and more inside…
On Wednesday evening, iconic comedian Charlie Murphy was laid to rest in NYC. And several of his celebrity friends joined his family to say their last goodbyes. The 57-year-old comedian passed away last week (April 12th) after a battle with leukemia.
Several of your fave comedians stepped out to pay respect to the man who kept us laughing for decades. Dave Chappelle, Donnell Rawlings, Eddie Griffin, George Lopez, Cedric The Entertainer, DL Hugley and Neal Brennan were amongst the celebrity guests.
Cedric The Entertainer shared a group shot from the service and captioned, "Tonite we joined Family n Friends to pay tribute and lay to rest our brother the Legendary #charliemurphy @neilbrennan @realdlhughley @georgelopez @eddiegriffin @donnellrawlings @davechapelle S/o @jaypharoah @affioncrockett #Capone #terryhodges #garfield"
"Darkness is spreading @therealcharliemurphy , tonight #celebration #darkness . Great night , I've known Mr #davechappelle since he was 18 , #billburr i just met tonight #chingonreconizeschingon #charliemurphy #thatswhatsup," George Lopez captioned.
After the service...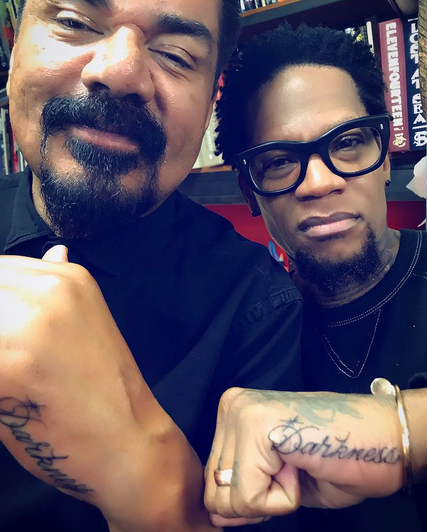 DL and George hit up a tattoo shop to get permanent tributes to their friend. They popped up at the Fun City Tattoo shop in NYC and copped "Darkness" tats, Charlie's nickname, on their hands.
RIP Charlie Murphy!
Photos: Cedric's IG/DL's IG/Jay Pharoah's IG