WHAT VASECTOMY? Antonio Cromartie's Wife Terricka Is PREGNANT With His 14th Child!
May 15 | by _YBF
Antonio Cromartie claims he had a vasectomy, but his wife Terricka Cromartie is pregnant with his 14th child. Deets inside…
What in the vasectomy hell?
Antonio Cromartie is about to be a dad…again…for the 14th time.
But get this…
This will be the NFL free agent's THIRD child after he made claims that he got a vasectomy last year.
You'll recall, Antonio and Terricka welcomed twins, Jynx and J'adore, in May 2016 and now they're gearing up to add baby #6 into their family fold.
The new baby will join big sister Jurzie, brother Jagger, along with 8 other siblings from 7 different relationships. A source close to the couple confirmed to us that Terricka also has a child from a previous relationship that Antonio adopted, which would make a total of 14 children.
That's a lot of mouths to feed and bodies to clothe.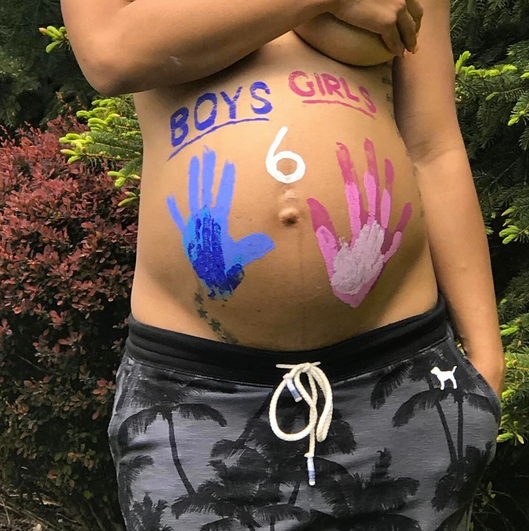 Terricka made the baby announcement via Instagram, posting a picture of her pregnant belly with the joke-y caption,
"In the up an coming CROMARTIE DRAFT of 2017, with the 6th OverAll Pick. Will the Cromartie's Draft a Boy or a Girl. J6 coming soon #6months #25weeks #boyorgirl #3girls2boys #sexunknown #j6 #commentJNames #lovingmybabies #happymothersday #bowwowchallenge #ornah"
We noticed the former "Candy Girls" star used the #BowWowChallenge hastag, so is this a joke? It's possible. But sources tell TMZ Terricka is, in fact, pregnant and she's about 25 weeks along.
Also, remember when Antonio's babies' mamas were going to do a reality show because they weren't getting enough coins from child support? Also, right before Terricka gave birth to the twins, they announced that they were doing a reality show as well. Stay tuned for more info on that.
Anyway, congrats to Antonio and Terricka.
Photos: Getty/Terricka's IG