What In The Racial Slur Hell? Bill Maher Refers To Himself As A 'House Ni**a' On National TV
Jun 03 | by _YBF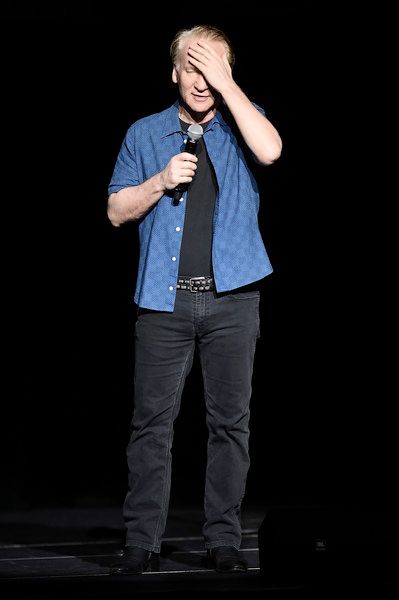 Apparently, a white man referring to himself as a "house ni**ga" is humorous to some. Bill Maher cracked a racist joke while interviewing a Nebraska senator and the audience thought it was pretty funny. Hear the joke and decide for yourself inside…
UPDATE: Bill Maher has issued a statement:
"Friday nights are always my worst night of sleep because I'm up reflecting on the things I should or shouldn't have said on my live show. Last night was a particularly long night as I regret the word I used in the banter of a live moment. The word was offensive and I regret saying it and am very sorry."
-----------
Late night, host Bill Maher definitely messed up.
The "Real Time" HBO host sat down with Sen. Ben Sasse, R-Nebraska, for an interview. Sen. Sasse invited the late night host to his state to get in the trenches, so to speak.
"We'd love to have you work in the fields with us," Sen. Sasse said.
Bill responded with: "Work in the fields? Senator, I'm a house ni**a."
Excuse us?
Maybe he thought using the -a version of the N-word instead of the -er version made it ok. After he cracked the racially insensitive "joke," some audience members laughed while others just made "I'm so uncomfortable" noises. Bill then followed up with "It's just a joke."
Check it:
Bill Maher just called himself a "House Nigger" and the audience applauded. #RealTime #Racist #FamousLastWords #FuckBillMaher pic.twitter.com/r85v4Ygqkd

— James Burgos (@jamesburgos) June 3, 2017
This morning, HBO issued a statement about Bill's racist joke. It reads:
"Bill Maher's comment last night was completely inexcusable and tasteless. We are removing his deeply offensive comment from any subsequent airings of the show."
It's unclear if the network will take further action.
Ben Sasse also responded to the controversy:
Am walking off a redeye from LAX.
3 reflections on @billmaher
1. I'm a 1st Amendment absolutist. Comedians get latitude to cross hard lines.

— Ben Sasse (@BenSasse) June 3, 2017
2. But free speech comes with a responsibility to speak up when folks use that word. Me just cringing last night wasn't good enough.
(2of4?) https://t.co/e4Bw8s8tV2

— Ben Sasse (@BenSasse) June 3, 2017
3. Here's what I wish I'd been quick enough to say in the moment: "Hold up, why would you think it's OK to use that word?...
(3of4?) https://t.co/mQL6wMEd7W

— Ben Sasse (@BenSasse) June 3, 2017
(4of4)
"...The history of the n-word is an attack on universal human dignity. It's therefore an attack on the American Creed. Don't use it." https://t.co/kEZm5vPFHK

— Ben Sasse (@BenSasse) June 3, 2017
So, here we are. 2017 and white folks -- liberal or not -- are still making light of slavery.
We know what some of you are thinking: "Black people are just too sensitive." Nah. It's about the dangerous slippery slope of making slavery into a joke. And if we want it to stop, we have to call them out.
Photo: Getty