INKED UP: Steph, Ayesha & The Currys Get Matching Post-NBA Championship Tats + Travis Scott & Kylie Jenner Get Matching Tattoos + Drake & His Second Sade Tattoo
Jun 15 | by _YBF
Everyone is getting inked up! Go inside to peep Steph, Ayesha and the Curry Clan's new tattoos, Travis Scott and Kylie Jenner's matching tats and Drake's 2nd Sade tattoo….
Nothing like a tattoo to capture a moment in time.
After the Golden State Warriors defeated the Cleveland Cavaliers in Game 5 of the 2017 NBA Finals and before today's parade, the entire Curry Clan went out to get matching tattoos. Winning their 2nd title in the last three years is a big deal, so what better way to capture the moment than some new ink.
Stephen Curry called up a tattoo artist to his home so he and his wife Ayesha Curry, dad Dale Curry and his brother/NBA player Seth Curry could get some new ink. His mom Sonya Curry and sister Sydel Curry were also in the mix, but its unclear if they joined in on the tattoo festivities.
Step called up tattoo artist Nino Lapid for the ink work. It's reported Steph got inked with Hebrew letters, while Ayesha's tattoo is still unknown. However, Steph's dad, former NBA baller Dale Curry, and brother, NBA baler Seth Curry, proudly showed their new ink.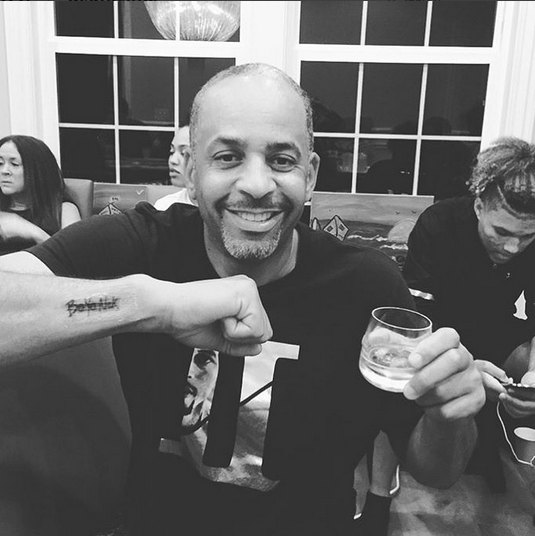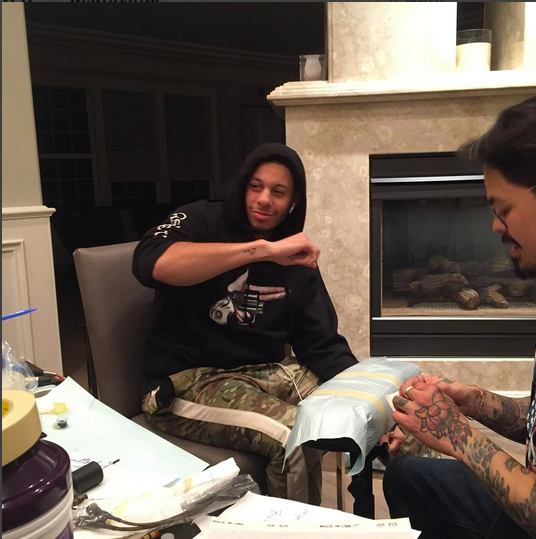 Loves it!
Speaking of matching tatts:
The Currys aren't the only ones getting inked up before summer '17.
Rapper Travis Scott and his girlfriend Kylie Jenner also copped some ink recently. And they're taking their ink to another level.
They decided to cop matching tattoos to celebrate their union. The tats are pretty small and hard to make out, but they appear to be miniature butterflies.
Fans are speculating that the inspiration could have something to do with Travis' new single "The Butterfly Effect." On the track, he raps about his new girlfriend and references Hidden Hills where Kylie lives.
Hmph.
Another YBFer copping new ink...
Drake's infatuation with singer Sade is real. More than real.
Belgian tattoo artist Inal Bersekov shared a new ink job he did and the new tat belongs to Young Money rapper Drake.
It's another portrait of the soulful singer added to his first tattoo, inked on the left side of his torso.
This creeptastic fandom though....
Photos: @zappyzip/SnapChat