IS HE FOR REAL? Michael Vick Says Colin Kaepernick Needs To CUT His Afro To Land QB Job, Colin (And More) Seemingly Pop Back
Jul 18 | by _YBF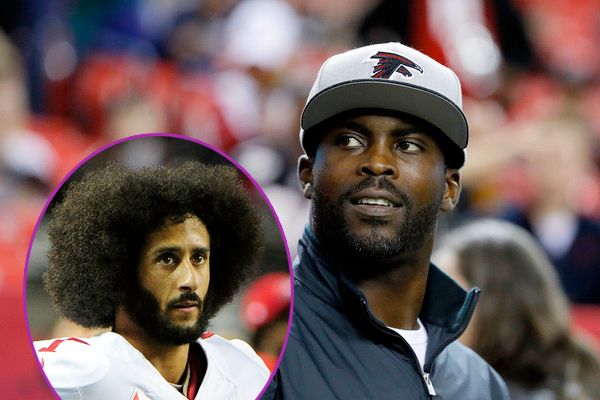 What in the Sunken Place hell? Michael Vick offers his two cents on how Colin Kaepernick can nab a quarterback position in the NFL and his advice has us giving him the UBER side-eye. Oh, and it appears Colin has responded. Get it all inside…
Former 49ers quarterback Colin Kaepernick still hasn't signed a contract with an NFL team and the new season is right around the corner. So now, everyone's serving up their commentary on what Colin should do to regain a spot in the NFL.
One of them is former NFL quarterback Michael Vick.
We all know Mike Vick had an issue with getting back into the NFL after he went to prison on dog fighting charges. He appeared on FS1's "Speak For Yourself" recently where he was asked what words of advice would he give Colin in order to position himself for a quarterback position and his response is shocking at best.
The former Falcons QB said in order for Colin to get picked up by a team, he needs to cut his hair.
"First thing we got to get Colin to do is cut his hair," Vick responded. "I'm not up here to try to be politically correct. I don't think he should represent himself in that way in terms of that hairstyle. Just go clean cut. Just try to be presentable. I just think perception and image is everything."
Vick also said he's just going off of his personal experiences. Umm…Mike, you broke the law. Colin has not broken ANY LAWS! There's a huge difference.
However, Vick did say he feels like NFL teams haven't picked him up due to his performance on the field.
"I think primarily the reason why he's not signed to a team right now is because of the last two seasons and not being as productive."
Peep the full clip below:
Later, Vick hopped on Twitter to clarify his statements, tweeting:
— Mike Vick (@MikeVick) July 18, 2017
"Woke" Colin hopped on social media to seemingly provide a response posting the definition of Stockholm Syndrome. Colin never mentions Vick by name, so it's possible he could possibly be sending subliminals to someone else, but it definitely fits as a response to what Vick said about cutting his afro. Check it:
It's no surprise "UNDISPUTED" co-host Shannon Sharpe has a powerful response to the situation. Here's what he had to say:
So, we have to ask, do you agree with Vick, or is he tripping?
Photos: Getty