BREAKING: O.J. Simpson Granted Parole, Will Get Early Release From Prison
Jul 20 | by _YBF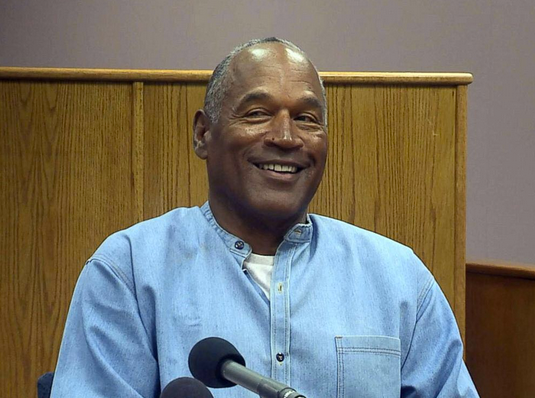 O.J. Simpson is thanking his lucky stars after a Nevada parole board granted him an early release today. More inside…
The Juice is loose!
Orenthal James Simpson will be in a free man in October after he was granted parole by a Nevada parole board today after serving his minimum sentence of 9 years in prison .
The 70-year-old former NFL star was unanimously granted parole for an armed robbery and assault with a deadly weapon charges, all stemming from a Las Vegas hotel incident in 2007 that could have landed him in jail for up to 33 years. O.J. needed all four members of the board to give him the greenlight and that's exactly what he got.
"I've done my time," O.J. said. "I've done it as well and as respectfully as I think anyone can."
The hearing started out lightly with board members laughing and joking with The Juice. At first, it seemed like O.J. was trying to re-try his case, serving up details that deflected any wrong doing on his part rather than apologizing for what went down. He had his eldest daughter Arnelle Simpson and robbery victim Bruce Fromong testify on his behalf, which very likely helped his case.
O.J. Simpson closing statement: "I am sorry that things turned out the way they did. I had no intent to commit a crime... I've done my time" pic.twitter.com/GipE3D2hZC

— NBC News (@NBCNews) July 20, 2017
Eventually, O.J. offered up an apology saying:
"I've spent 9 years making no excuses about anything. I am sorry that things turned out the way they did. I had no intent to commit a crime."
The NFL Hall of Famer was said to have told former prison guard and Guarding The Juice author Jeffrey Felix that if he was ever granted parole, we won't ever see hear from him again. He won't do anything, not even get a parking ticket.
O.J. will be released from prison as early as October 1st and he'll be under very strict conditions. He will reportedly be living in Florida near his kids if the transition to Florida is approved.
Thoughts?
Watch the parole hearing and the current live stream from Lovelock prison below:
Photo: Instagram