Ezekiel Elliott Pleads His Case At Appeal Hearing In NYC + Why The Cavs Are Having Second Thoughts About Kyrie Irving Trade + Will LeBron James Go To The Lakers?
Aug 29 | by _YBF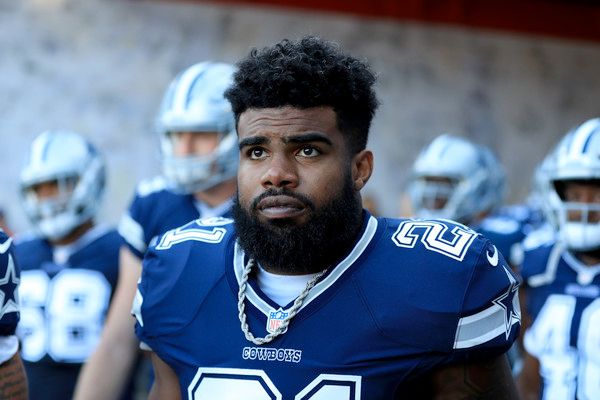 Ezekiel Elliott is currently pleading his case in an secret appeal hearing with the NFL after a six-game suspension. Meanwhile, there are several rumors swirling around the NBA about Kyrie Irving and LeBron James. Deets inside…
Dallas Cowboys player Ezekiel Elliott is meeting with the NFL in NYC today to plead his case in an appeal hearing for his six-game suspension. He was supposed to meet at the NFL headquarters, but reporters say the NFLer and his legal team are meeting in secret with NFL execs at an undisclosed location:
Sources have told ESPN Ezekiel Elliott's appeal hearing not taking place at the NFL office in NYC. Been moved to an undisclosed location

— Dianna Russini (@diannaESPN) August 29, 2017
It's unclear why the hearing was moved.
According to ESPN,Todd Jones, the league's special counsel for conduct, said four advisers who reviewed information collected in an investigation lasting more than a year "were of the view that there is substantial and persuasive evidence supporting a finding that [Elliott] engaged in physical violence" on multiple occasions.
However, Ezekiel's lawyers feel the NFL is using him as a scapegoat since they claim to have evidence that the police says does not exist. It's reported the NFL knew Tiffany is lying (due to text messages).
Ezekiel is meeting with Harold Henderson, the arbitrator of the appeal hearing. He will reportedly serve as a judge of sorts and hear arguments from both sides.
There are three possible outcomes: Henderson can reduce, vacate or uphold the suspension. Henderson was a member of the NFL's executive management council for years, serving with Cowboys owner and general manager Jerry Jones, so Zeke may have a good chance at a positive outcome.
Tiffany will not be present during the hearing.
Ezekiel has hired Jeffrey Kessler, the same attorney who defended Tom Brady during Deflategate, Adrian Peterson and Ray Rice. Hmph.
If he loses, Ezekiel and his legal team aren't afraid to take the case to federal court.
In basketball news...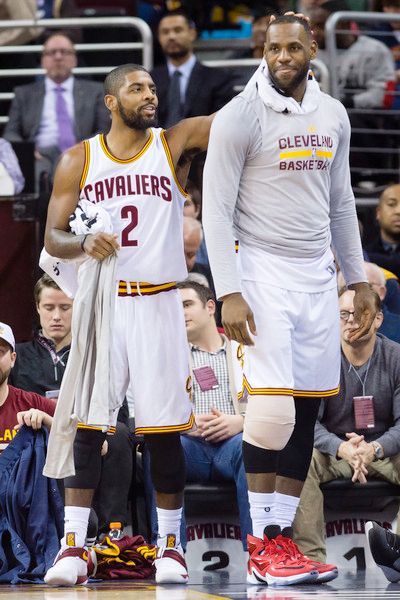 Are the Cleveland Cavaliers having 2nd thoughts about that blockbuster Kyrie Irving trade?
Last week, the Cavs agreed to trade Kyrie to the Boston Celtics in exchange for Isaiah Thomas, Jae Crowder, Ante Zizic and the Brooklyn Nets' 2018 first-round pick (which the Celtics owned).
Days later, it was reported the Cavs were considering reneging the trade after they did a physical on Isaiah's injured hip.
Then, it was reported the Cavs were looking to get further compensation for Irving, but the Celtics weren't buying it.
As of now, the deal hasn't been sealed. It's currently in limbo. Either way, a decision must be made before training camp kicks off next month.
In other Cavs news...
A few NBA executives believe Bron Bron could be wearing purple and gold soon...as a Laker. Here's what they told Bleacher Report:
"He's out," a Western Conference scout says.

"Foregone conclusion," one Eastern Conference general manager adds.

"I don't see him staying in Cleveland," another thinks.
If he does leave Cleveland, where will he end up? That's unclear, but the Los Angeles Lakers would LOVE to bring him to the team. The Lakers are developing their squad, brining in young guys like Lonzo Ball and Brandon Ingram. If they can clear enough cap space, they will certainly be in the run to nab King James IF he does in fact leave next year.
Thoughts?
EXTRAS:
1. Cleveland Browns players stop protesting national anthem after Browns legend Jim Brown declares he wouldn't disrespect the flag. STORY
Photos: Getty