MAJOR UPSETS & WINS! 3 Wild Moments That Kicked Off College Football Season This Weekend
Sep 04 | by _YBF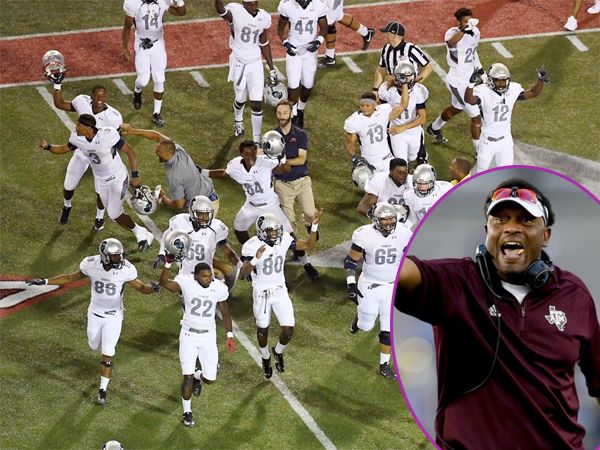 The 2017-18 season of college football kicked off with a BANG. And we've got the top 3 moments that has everyone talking this morning. More inside…
If you were watching football over the weekend, you probably screaming and re-securing your wig like the rest of us! Wild, wild moments tha sports fans love (and hate).
Howard University offered up a major upset during their matchup against UNLV on Saturday.
Lead by Cam Newton's younger brother Caylin Newton, Howard served up the biggest upset in college football history based on point spread during the season opener. The 45-point underdogs cranked out a win, 43-40. One time for the HBCUs!
QB Caylin Newton did numbers during the season opener, raking up 330 total yards and scored three touchdowns in the game. We're sure his brother Cam Newton is proud to hear this news.
#ICYMI: Our Howard Football Team had a dynamic win against @unlvfootball last night. Congratulations @HUBisonSports #MissionPossible pic.twitter.com/P7uvB19cO2

— Howard University (@HowardU) September 3, 2017
Congrats to Howard! We're sure we'll be hearing more about Caylin making history as the season continues.
In other college football news...
A member on the Texas A&M Board wants head coach Kevin Sumlin, the first black head coach the school has ever had and the first black head coach at a major Texas college football program, to be FIRED. But before you raise that eyebrow, the Board member may have a point after last night's foolishness.
The season opener for A&M was a disaster to say the least. By the third quarter, "underdog" TAMU was up 44-10 against UCLA, but that huge spread went out of the window by the end of the game. Per usual for the Aggies it seems. UCLA was able to come back from the 34-point collapse with their biggest comeback in their campus history, 45-44. Major upset.
Now, Texas A&M regent Tony Buzbee is calling out head coach Kevin Sumlin -- who has a six-year, $30 million contract with the school -- on his coaching abilities. He wants him out…STAT!
Buzbee wrote:
Yikes!
Meanwhile, Coach Sumlin is being dragged on Twitter:
Sumlin has got to go... #firesumlin

— Tony Buzbee (@TonyBuzbee) September 4, 2017
You can't fall apart at the end of the season if you fall apart in the first game #FireSumlin pic.twitter.com/8kYDd8Euc0

— Travis Mueller (@TravisMueller18) September 4, 2017
#KevinSumlin When he gets back to Texas. pic.twitter.com/IJdMckHpoE

— Thomas (TomTom)Scott (@tomtomtheman93) September 4, 2017
Somebody getting fired tomorrow on their off day. Lol #kevinsumlin

— SGM (@bamabelle2k9) September 4, 2017
I have a thousand dollars to start the Go Fund Me page to cover the buyout of #KevinSumlin who's kicking in? #texasam #AggieFootball #Aggies

— Gay Guy Sports (@GayGuySports) September 4, 2017
Goodbye #KevinSumlin.#TexasAM#UCLAvsTAMU pic.twitter.com/a4Jtx0dxxj

— Nichole (Nikki) (@SkepticNikki) September 4, 2017
Damn son.
In happier news...
As of yesterday, the Miami defender who most recently forced a turnover gets to wear The Turnover Chain. https://t.co/n5jdtLv1qg pic.twitter.com/on17MXym0E

— Connor Tapp (@MeetMeAtTapps) September 3, 2017
Motivation!
Miami Hurricanes have created their own incentive when players force turnovers: The invention of the Turnover Chain. Leave it to the U to break something like this out.
Hurricanes' defensive coordinator Manny Diaz reportedly introduced the "turnover chain" to the team before they hit the field against Bethune-Cookman. The Cuban link chain is chunky, gold and true to Miami's style. Some folks are dragging them for it calling it slave-like hood antics, some are all about it.
"He told us this morning about the turnover chain," linebacker Shaquille Quarterman said after the Hurricanes defeated the Wildcats, 41-13. "It goes to whoever gets the turnover. You get to rock that huge Miami-style chain… it was just another incentive."
Sophomore corner Malek Young intercepted a pass and was the first to rock it during the fourth quarter of the game (above).
Thoughts?
Photos: Getty/AP