Jason Whitlock Reaches Peak Coonery After Ray Lewis Accuses Colin Kaepernick's Girlfriend For Not Getting On Ravens Roster
Sep 07 | by _YBF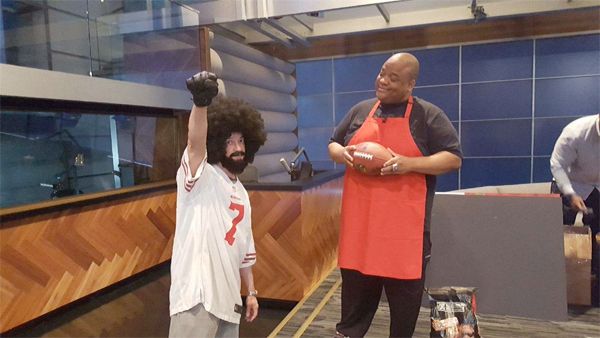 The coonery is reaching an all time high when it comes to Colin Kaepernick and his national anthem protest. Ray Lewis is blaming Colin's girlfriend Nessa for not nabbing a spot on the Ravens roster. After that, Jason Whitlock shared a picture from a skit where he mocks Colin's activism. Get it all inside..
"All Takes Matter" co-host Jason Whitlock seems to be obsessed with throwing shade at Colin Kaepernick and the fact that he's using his platform for the greater good. Every chance he gets; he has something negative to say about the former 49ers quarterback.
Well, he has reached a new low.
The TV host posted up a picture on Twitter from a skit of Kid N' Play's Christopher Reid dressed up as Colin, mocking his activism efforts with the caption, "Great to have Kap stop by the studio today."
Great to have Kap stop by the studio today. pic.twitter.com/2UPuyCdWdK

— Jason Whitlock (@WhitlockJason) September 6, 2017
Seriously? Why would Kid even sign up for this foolywang material? The picture came from a skit that was supposed to air on national television. Luckily, "All Takes Matter" producers have reportedly pulled the plug on the skit and will not air on FS1
The hate is so real.
Singer Trey Songz and actor Don Cheadle caught wind of Jason's tweet and responded to the bull-ish:
Smh pic.twitter.com/JYZ5cohEUb

— Trey Songz (@TreySongz) September 6, 2017
What's up, Don? What's the problem? https://t.co/ZGM9ufNHGO

— Jason Whitlock (@WhitlockJason) September 6, 2017
In more foolywang material news...
Ray Lewis is making claims that the reason the Baltimore Ravens didn't sign Colin is because of a tweet/meme posted by his girlfriend/HOT 97 personality Nessa.
Last month, Nessa shared a meme comparing a picture of the All-Pro linebacker hugging owner Steve Bisciotti to a scene from Django Unchained where Samuel L. Jackson's character held on to Leonardo DiCaprio's character, who was a slave owner.
The former NFL player said Nessa's tweet is the sole reason the Ravens decided NOT to sign him.
"We were going to close the deal to sign him," Ray said on "Inside the NFL." "Steve Bisciotti said, 'I want to hear Colin Kaepernick speak to let me know that he wants to play football.' And it never happens because that picture comes up the next day."
He went on to say had Nessa never posted that "racist" tweet, he would have a job.
"His girl [Nessa] goes out and put out this racist gesture and doesn't know we are in the back office about to try to get this guy signed," Ray said. "Steve Bisciotti has said it himself: 'How can you crucify Ray Lewis when Ray Lewis is the one calling for Colin Kaepernick?'"
Peep the clip above.
Are we beliving this ish or nah?
Photo: Jason's Twitter