Tracee Ellis Ross Shares Funny Story How Mom Diana Ross Caught Her Stealing In W Magazine + Tracee Surprises Brother Evan Ross
Sep 13 | by _YBF
Tracee Ellis Ross takes her talents on the cover of W magazine's newest issue where she shares a funny story about how her mom Diana Ross caught her stealing…kind of. Read the funny story, plus peep pics of Tracee surprising her younger Evan Ross at an awards event inside…
Tracee Ellis Ross is killing the primetime television game as the hit family comedy "black-ish" continues to rake in viewers each week.
Before the ABC series returns on a new night (Tuesday, October 3rd), lead star Tracee Ellis Ross is making her rounds on the promo trail. The Golden Globe winner graces the newest cover of W magazine and, of course, it's stunning.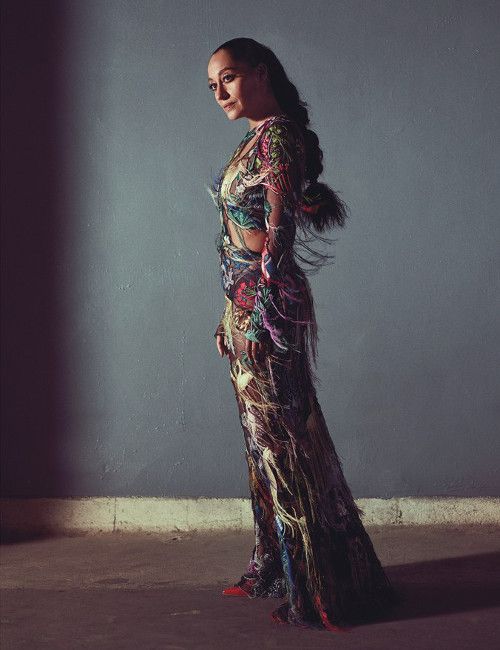 Inside, the 44-year-old actress, who is up for an Emmy next Sunday, shared a funny story about how she's always raiding her mother's closet. And who wouldn't? It's Diana Ross we're talking about here. Instead of "borrowing" clothes and accessories from her mom, Tracee called it more like "stealing," revealing how she would get away with scooping up pieces from her mom's luxury collection of clothing.
Lynn [W magazine reporter], you're very kind to say did I borrow clothes from my mother. It sort of was more like stealing. I'm not going to lie. She would leave the house and I went in her room and looked out the window and saw her car go down the driveway, and I marched myself right into her bathroom and started taking clothes. What I liked to do is put them in my closet and live with them as if they were mine.
And here's how she did it:
And my mom walked back in the room, in the bathroom. [Laughs.] And she was like, "What are you doing?" I was like, "I'm organizing your closet for you! What are you doing?" She said, "I forgot something." And I was like, "Oh! Can I help you find it?" [Laughter.] So, yeah, I, I was known for that. And still I call it shopping. I go to my mom's house—my mom has the most extraordinary taste, top to bottom, whether it's the dishes or the clothes, from t-shirts to gowns to hats to coats.

I call it shopping, and to this day whenever I go over to my mom's I sometimes look at my brother, Evan, and I'm like, "Should we go shopping?" And I will ask if I can take something and she always says, "No." My mom will say "no" often. She will give me anything, give us anything off of her back, but sometimes she's like, "For god's sakes, leave my mirror alone!" You know.

Here's another story; this is a really good one: Leaving for college there was a rug, this beautiful Kilim rug, that I wanted that was under our breakfast table. I asked if I could take it for college and my mom was like, "No, it's under the breakfast table. You cannot take it." And the car was going down the driveway and my mom comes running out. I don't know how she got it from under the table so fast, but she came running out barefoot with the rug. She was like, "Take it! Take the rug! I love you! Go off to college with the rug!" [Laughter] It's a perfect example of my mother. That's not the Diana Ross people know. That's my mommy.
Aww! That's cute.
You can read her full interview here.
Check out Tracee talking about it all below:
Ha!
Behind the scenes of the shoot, the YBF actress was spotted chilling before she got in front of the camera.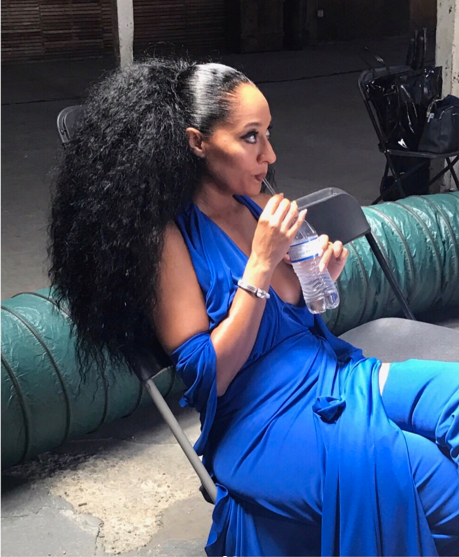 Blue must be the hue Tracee is feeling the most as of late...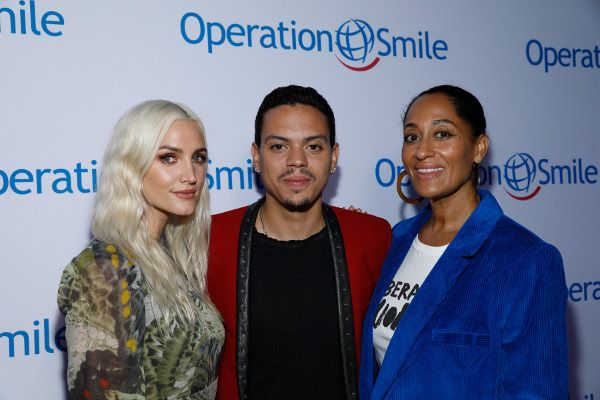 The "black-ish" star stepped out to show her brother Evan Ross and her sister-in-law Ashlee Simpson Ross as they accepted the Universal Smile Award during Operation Smile's 2017 Los Angeles Smile Gala held at The Broad Stage in Santa Monica.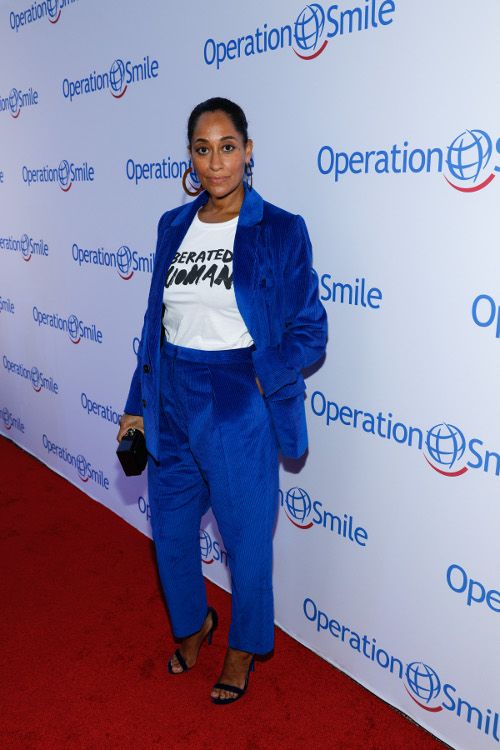 When meanswear goes right! Trace posed in up in royal blue velvet suit with matching open toed heels.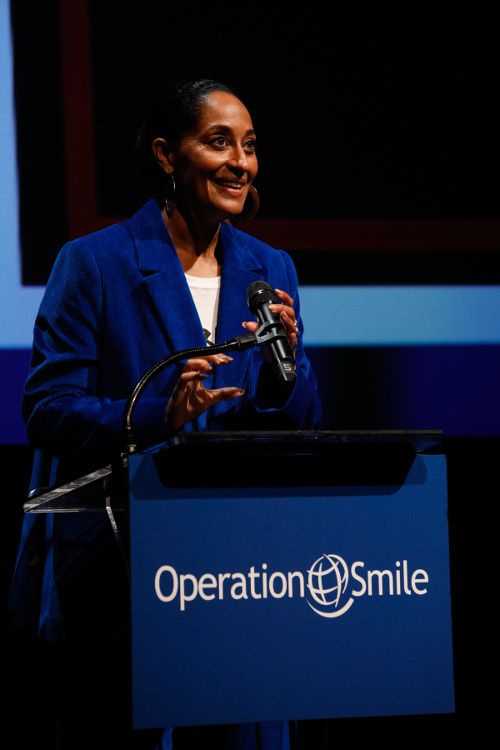 Once inside, Tracee took the stage to present her brother and sister-in-law the Universal Smile Award.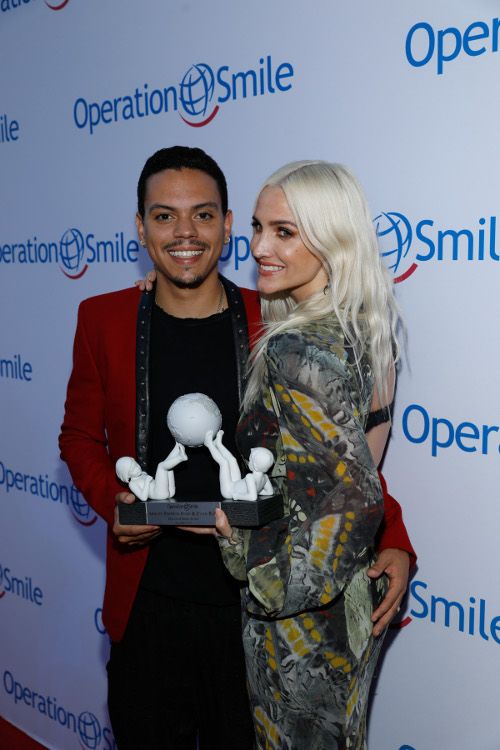 After receiving the award, Evan introduced his best friend and Michael Jackson's nephew, Austin Brown, who performed an acoustic rendition of his latest single, "Smile". Austin and Evan then excited the audience by performing a surprise duet of Eric Clapton's "Change The World," before World of Dance winners, Les Twins closed the night a with a show stopping dance routine.
Family fun.
Photos: W magazine/Tracee's IG/Michael Underwood/Amy Graves