Nicki Minaj Will Reportedly Be A Star Witness In Brother's Rape Trial
Oct 20 | by _YBF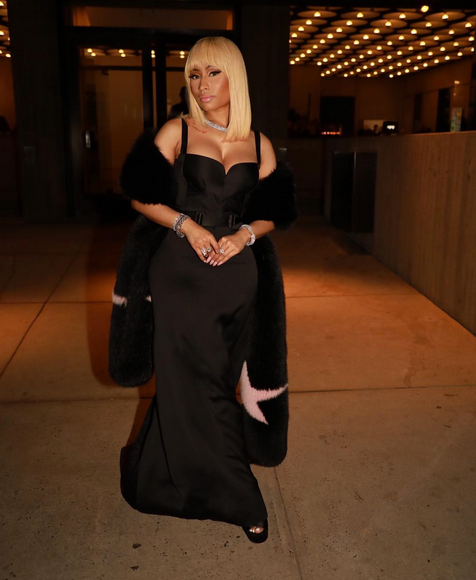 There are updates in the rape case against Nicki Minaj's brother Jelani Maraj. And it's being reported Nicki is the star witness in her brother's defense. More inside…
The rape case against Nicki Minaj's brother, Jelani Maraj, just got its star witness. And it just so happens to be his famous sister, Nicki Minaj (above at the T, New York Times Style Magazine event in NYC rocking Dvani black and white diamond bracelet and diamond earrings, a Harry Kotlar yellow diamond ring and two platinum diamond rings, as well as a Hearts On Fire diamond ring and bracelet).
According to PageSix, the "No Frauds" raptress will be the crux of the defense. Why? Well, they're creating a narrative that Jehlani's estranged wife, Jacqueline Robinson, is after Nicki's money and concocted this whole rape story in hopes of receiving $25 million.
The site reports:
In opening statements in Nassau County, the brother's lawyer said Thursday the whole case was an attempt to extort $25 million from the hugely successful "Anaconda" rapper.

The little girl's mother, Jacqueline Robinson, "related to Nicki that, 'I can make the charges go away for $25 million,'" said David Schwartz, lawyer for Minaj's brother, Jelani Maraj.

Robinson and the brother had just married when Robinson's then-11-year-old daughter told officials in graphic detail that her new stepfather was raping her as often as four times a week, prosecutors say.
Assistant District Attorney Emma Slane told jurors in her opening statement that the girl's 8-year-old brother was the one who spilled the beans about the alleged sexual abuse. It's reported the boy said he was beaten by Jehlani after he walked in on him having sex with his sister.
It was previously reported cops found a pair of the little girl's pajama pants with Jehlani's DNA. Jehlani's lawyer is arguing that the girl's mom put the DNA on the pants herself to frame him.
"An evil Jackie targeted him," the lawyer said, pointing to Maraj, "trying to get him to marry her, and then just four months after they were married, we have this."
You'll recall, the Young Money rapper posted Jehlani's $100,000 bond after he was arrested in December. It's unclear right now whether or not Nicki will take the stand in court. However, private investigator Les Levine said Nicki will be called on her brother's behalf, but didn't reveal which day.
Thoughts?
Photo: Nicki's IG