'The Bobby Brown Story' Is Coming Next Fall, And It's Already Shaping Up RIGHT!
Nov 06 | by Natasha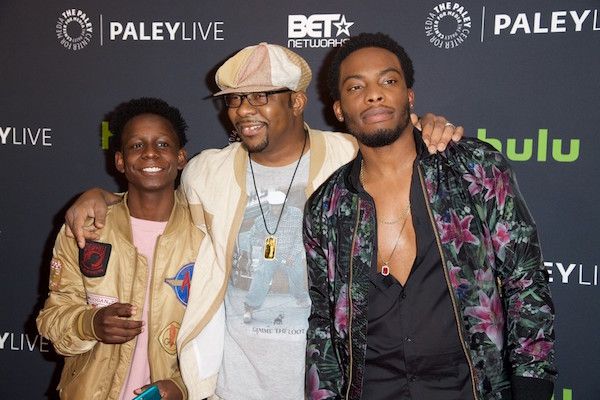 When Bobby Brown said he was going to get his own movie because he had a whole story to tell, he wasn't lying. Things just got extra official. His solo biopic has a release date, and the perfect person to play him. Deets inside...
After the major win that was The New Edition Story, BET is rolling out another multi-part biopic to piggyback off its success. Bobby Brown wants to go solo (again), and the network is making it happen.
BET just set a Fall 2018 release date for The Bobby Brown Story, which will be a two-part followup to his group New Edition's biopic.
While casting is still underway, the lead character has just been named. It's Woody McClain (above, right), the actor who portrayed him flawlessly in The New Edition Story.
And killed those performances as bad ass Bobby Brown.
Bobby's solo biopic is going to cover everything: The singer's humble beginnings and rise in the industry both solo and part of NE, his tabloid fodder-filled marriage to Whitney Houston, the relationship with ex-girlfriend Janet Jackson, their daughter Bobbi Kristina's tumultuous life and Bobby's roller coaster three-decade long career.
Deadline gives the details saying:
Written by Abdul Williams and executive produced by Jesse Collins — both reprising their New Edition Story gigs — The Bobby Brown Story will pick up where the New Edition mini left off. It will chronicle the talented but troubled singer's exit from the popular '80s boy band through his solo success, his affair with Janet Jackson and tabloid-fodder marriage to pop icon Whitney Houston. Spanning 30 years of Brown's life, the new project follows his story from the hard streets of Roxbury, where he turned to a life of drug dealing before being given the chance to prove himself as a solo artist.
The drinking, drugs and impossibly sad end to his ex wife and daughters' lives will be addressed:
Brown scored eight consecutive top 10 pop singles from 1988-92, but his life began to unravel after his marriage to Houston in 1992. He was arrested several times during the 1990s and 2000s, and the couple's shared substance became a hurdle too big to overcome. They divorced in 2007, and Houston was found dead in a bathtub at the Beverly Hilton on the eve of the 2012 Grammys. Their only child, daughter Bobbi Kristina Brown, led a difficult life after her mother's death and died in July 2015; she had been in a coma for six months after also being found submerged in a bathtub.
But it won't be all bad. Deadline states:
BET said The Bobby Brown Story also will be a story about redemption. Through sobriety, the singer learns to be a better man, husband and father — finding love again and remarring in 2012.
By the way, that Bobbi Kristina biopic that TV One aired last month came under fire for being done without Bobby's approval. He and Bobbi Kris' estate sued the network in September before its release for $2M, and the case was just settled for an undisclosed amount. TMZ notes Bobby "claimed the portrayal of him as a bad dad was defamatory" and Bobbi Kris' estate claimed "the show violated her right to privacy."
Don't know about y'all, but we are READY for Bobby's biopic.
Photos: Getty