GQ's Citizen of the Year Colin Kaepernick Salutes Vets On Veterans Day + Redskin Josh Norman Gives Cleats To Vet, Steph Curry Makes Some 'Noise' For Our Soliders
Nov 13 | by _YBF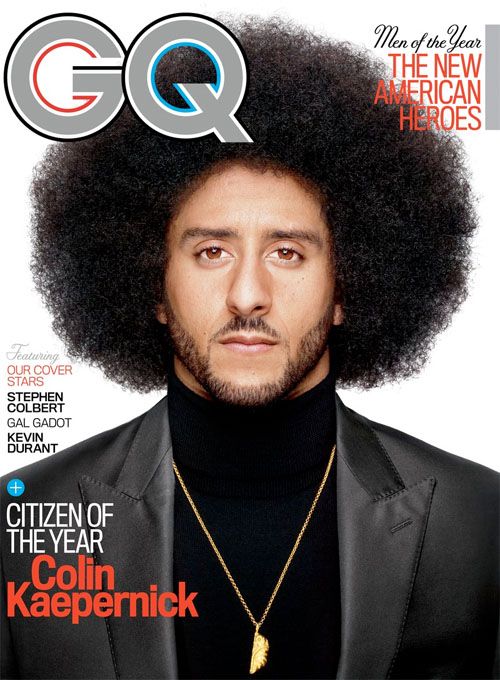 Our athletes are saluting veterans for Veterans Day. See how Colin Kaepernick, Josh Norman and Steph Curry showed loved inside…
Yesterday was Veterans Day and it prompted several professional athletes to speak out on the holiday. Especially since white media is creating this narrative that the athletes are disrespecting the men and women who defend our country with their silent protest.
Former 49ers QB Colin Kaepernick has become the poster child of the national anthem protest ever since he launched the protest last year. As WE all know, the protest has nothing to do with disrespecting veterans and it has everything to do with raising awareness for racial and social injustices.
To remind everyone what his ultimate goal is with the national anthem protest, Colin posted a special tribute to veterans on his Instagram account. He also reminded everyone that he donated money to veterans (i.e. Black Veterans for Social Justice) on his quest to donate $1 million to several non-profit organizations.
He affectionately shared:
We hope the people who NEED to see this, saw this.
Meanwhile...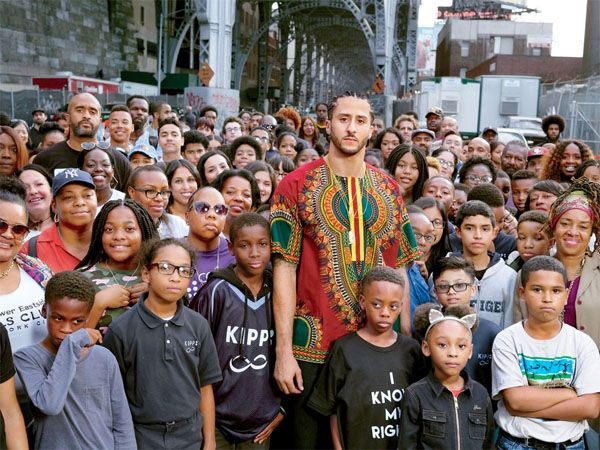 The 30-year-old athlete (who recently celebrated a birthday) graces the cover of GQ's December Men of the Year issue where he was crowned "Citizen of the Year," and rightfully so. Shot by Martin Schoeller in Harlem, the shoot that accompanied the story was to evoke the spirit of Muhammad Ali's anti-Vietnam War protests in the neighborhood during the late 60s. Peep a few of the flicks below: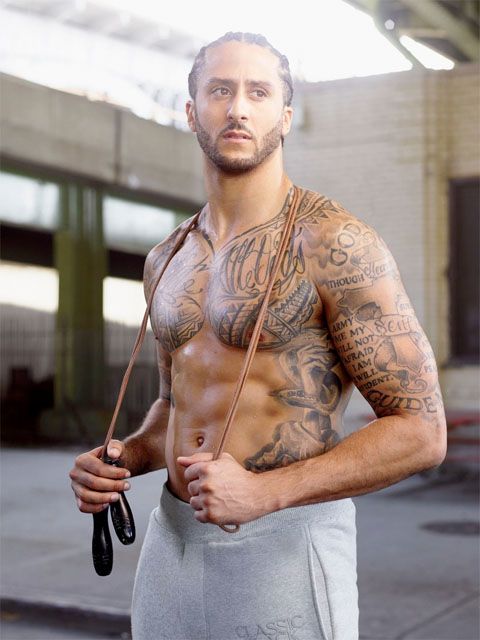 YAS!
The cover story is comprised of Colin's 10 closes confidants, including J. Cole, Ava DuVernay, Harry Belafonte and more, to speak on the subjects of activism, protest, and equality, and to offer some rare insights into Colin Kaepernick himself (who didn't have to speak a word in the article). Check it out here.
Speaking of athletes saluting veterans...
Redskins cornerback Josh Norman showed his appreciation for the veterans before their game yesterday against the Minnesota Vikings. He took off his cleats, signed his autograph and gifted them to Commandant of the Marine Corps General Robert B. Neller. Nice! Peep the clip above.
By the way, the Redskins lost, 38-30.
Golden State Warriors player Steph Curry also celebrated Veterans Day with an open letter (via The Player's Tribune) dedicated to the men and women who fought for our country. And he explained what all the vets HE speaks to really think about expression of our freedoms:
I'm a person who is comfortable in his own skin. I'm 29 now. I've got two daughters, a wonderful wife, two amazing parents. I've been all over this country, from Charlotte to the Bay. And I feel confident in the fact that I've developed a foundation for my character that I can be proud of. I know what I believe in, and I know what I stand for.

And I know what I stand against.

But when someone tells me that my stances, or athlete stances in general, are "disrespecting the military" — which has become a popular thing to accuse peaceful protestors of — it's something that I'm going to take very, very seriously. One of the beliefs that I hold most dear is how proud I am to be an American — and how incredibly thankful I am for our troops. I know how fortunate I am to live in this country, and to do what I do for a living, and to raise my daughters in peace and prosperity. But I also hear from plenty of people who don't have it nearly as good as I do. Plenty of people who are genuinely struggling in this country. Especially our veterans.
He explained:
And every single veteran I've spoken to, they've all said pretty much the exact same thing: That this conversation we've started to have in the world of sports … whether it's been Colin kneeling, or entire NFL teams finding their own ways to show unity, or me saying that I didn't want to go to the White House — it's the opposite of disrespectful to them.

A lot of them have said, that even if they don't totally agree with every position of every person, this is exactly the thing that they fought to preserve: the freedom of every American to express our struggles, our fears, our frustrations, and our dreams for a more equal society.
Yes Steph!
Which I guess is why I decided that I wanted to write this, now.

Because if I'm going to use my platform … I don't want to just be noise. I want to use it to talk about real issues, that are affecting real people. I want to use it to shine a spotlight on the things that I care about.

And I care about our veterans deeply.

So that's why I'm writing this — that's my plea to y'all for this Veterans Day: Let's please not get lost in another one of these endless debates about who means what when they're doing what, or who is disrespecting whom.

Instead, let's respect — let's celebrate — our veterans, by having a conversation about the actual ways that we as civilians, as their fellow Americans they've fought to protect, can hold up our end of the bargain. Let's talk about the broken VA medical system, and traumatic brain injuries, and PTSD. But let's also talk about homelessness, and unemployment, and mental health, and, yes, racial inequality.

Let's talk about how we can do better, to make their lives easier.
He also talked about how he felt the morning he woke up and realized No. 45 tweeted him nasty comments. His full must-read letter is here.
Photos: Martin Schoeller via GQ