#BLACKPANTHERCHALLENGE: Tons Of Folks Are Buying Out Theaters To Make Sure Kids Experience 'Black Panther'
Feb 16 | by _YBF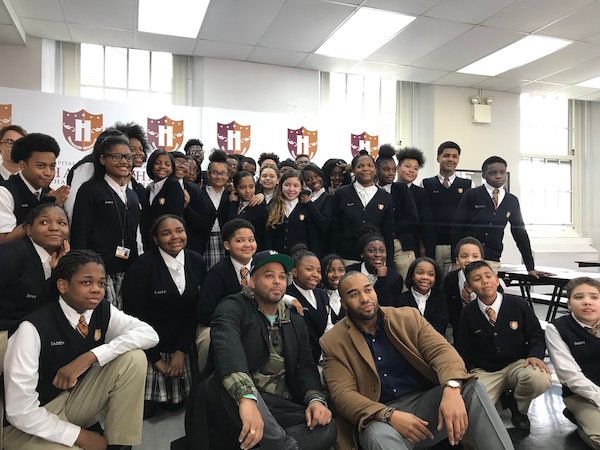 Movie theaters all across the nation are about to be LIT this weekend with the opening of Black Panther. Get the deets on how celebs and community leaders are pitching in to make sure as many kids as possible get to experience the greatness.
If you're headed to the movie theater this weekend, it'll likely look like a black family reunion as several groups have united to provide FREE viewings of the year's hottest movie, Black Panther. That's in addition to the masses of individuals copping tickets at a record rate. And we can thank social media for that.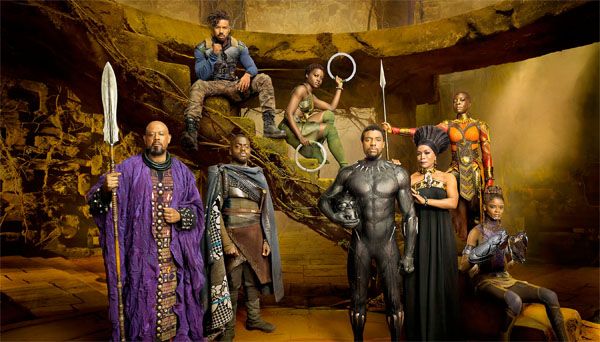 The #BlackPantherChallenge became quite popular on social media where people were challenged to provide free tickets to ensure young, black children get a chance to see the star ensemble of black actor and actresses on the big screen.
Churches, youth groups, student groups, sororities, fraternities and family groups are buying out the box office to celebrate the Marvel superhero movie. And it couldn't have been released in a better month than this one: Black History Month. The superhero film is currently in the process of making history with the box office numbers. The film has already raked in $25.2 million from the preview night.
The Black Panther soundtrack's Executive Producer and curator Kendrick Lamar and his TDE President Top Dawg are sending three housing projects in his hometown of Compton to see the flick for free. They rented out 3 different theaters for 5 showings, according to Fader.
Children from the Watts housing projects will be eligible to attend the screening with almost 1000 seats being made available after Anthony "Top Dawg" Tiffith bought out 5 shows in 3 different theaters on Saturday, February 17.

Kids in the Nickerson Gardens, Jordan Downs, and Imperial Courts Projects able to gain entry to the screening by visiting their respective housing development offices.
Nice!
Harlem native Frederick Joseph launched a GoFundMe to take all of the kids from the neighborhood Boys & Girls to see the film. He reached his goal and even surpassed it with the campaign spreading beyond NYC:
Thanks to you, the #BlackPantherChallenge became the largest GoFundMe in history for an entertainment event.

Then you raised $300k, enough to buy tickets for over 23k children.

NOW...you've raised over $400k around the world, enough to send over 30k children to see the film! pic.twitter.com/4JVzBHTwtg

— Frederick Joseph (@FredTJoseph) February 12, 2018
He tagged along with Capital Prep in Harlem when the kids got to go see the film during a Thursday morning advanced screening.
We're rolling deep to see #BlackPanther this Thursday! Major thanks to @JimmyJazzStores for the ticket donation! #BlackPantherChallenge pic.twitter.com/eD4cJcYCSf

— Frederick Joseph (@FredTJoseph) February 13, 2018
Wakanda Forever. #BlackPanther #BlackPantherChallenge pic.twitter.com/Ieps0DsaE2

— Frederick Joseph (@FredTJoseph) February 15, 2018
Loves it!
Viola Davis, Ellen DeGeneres, Chelsea Clinton and several other celebs donated to the cause.
Businessman Rodger Jackson and his partners, who produce the "No Chiraq" web series and own the streaming platform The-I, joined forces to rent out a theater in Chicago and give tickets to local non profits.
"Once I posted about it [to social media] my inbox started blowing up," Jackson said. "We just want to get as many kids as we could to see Black Panther."
Other groups are putting their money up too: Chicago youth group Top Teens will be providing free tickets, Capital City Black Film Fest will send 200 youth in Austin, TX to see the film, and Trinity United Church of Christ in Chicago plan to attend the film in groups of 150-300. The church has already bought out seven screenings of the film.
"We're trying to cash in on the intellectual, educational value of having a discussion about black images in media," Pastor Otis Moss III said. "Films are public texts that allow us to speak about our values, speak about politics and speak about culture. And it is very important for the African-American community to expand their imagination and one of the areas where imagination has been limited is within the traditional mainstream Hollywood imagery of black people on screen."
In Sacramento, Cyrus Mulitalo, a Sacramento State football hall of famer, will be sending 200 kids to see the movie on Saturday. And as we previously reported, Oscar winning actress Octavia Spencer bought out two theaters in Mississippi so children will get a chance to see the film.
Y'all better make sure you're part of the blackest, most inspiring reunion of everybody black this weekend!
Photo: Marvel