Oprah Totes Her 'Wrinkle In Time' Barbie Doll On All The Promo Stops + Ava DuVernay Creates Theater Experience For Compton Kids To See 'Wrinkle' For FREE
Mar 08 | by _YBF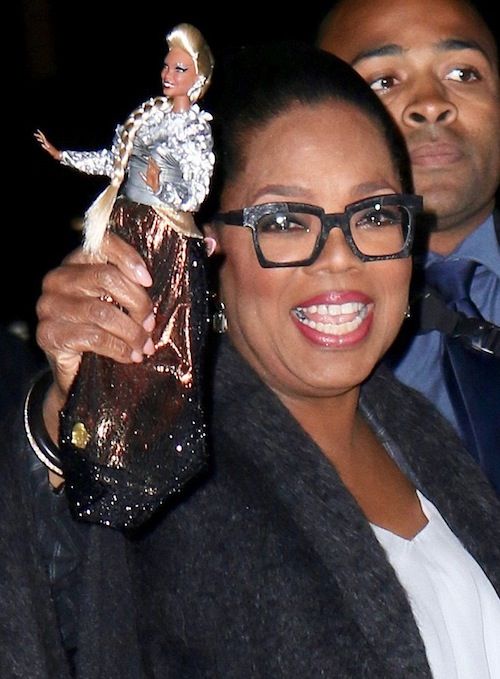 Oprah is a Barbie y'all! And she's over the moon about it. Go inside to see flicks of the media mogul flossing her Wrinkle In Time doll, plus find out how Ava DuVernay when over and beyond for the kids in Compton inside…
You KNOW you've made it when you're likeness is transformed into a Barbie. Not that Oprah needed a stamp of approval to prove her greatness, but this new doll sure helps to decorate her extensive resume even more.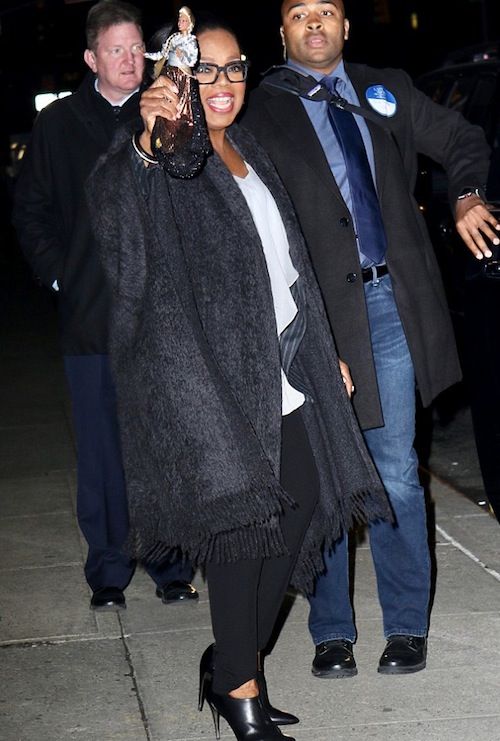 Lady O was spotted toting her new Barbie created to look like her character, Mrs. Which, from Disney's A Wrinkle in Time out in these streets. She was making her way to the set of "The Late Show With Stephen Colbert" in New York on Tuesday night and she wanted everyone to see her new doll!
Mattel did a good job on it too.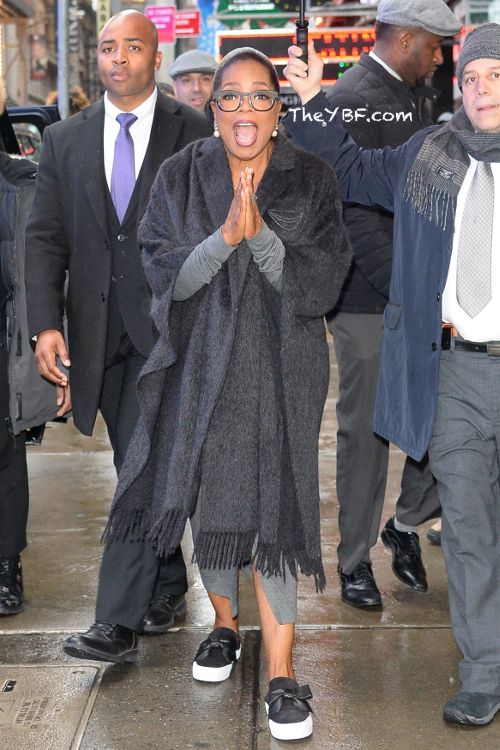 Wednesday morning...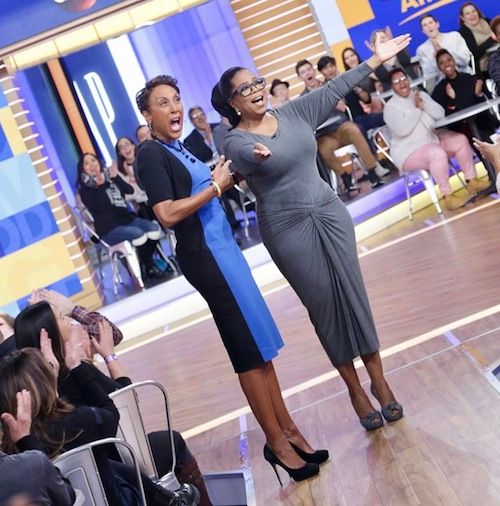 Lady O stopped by "Good Morning America" to chop it up with Robin Roberts. The ladies sat on a set similar to O's set from her daytime talk show days. During their chat, Oprah opened up about how the Barbie became a full circle moment for her since she couldn't even afford a Barbie doll growing up.
"My whole life we couldn't afford a Barbie," she said. "I had actually a corn cob doll."

"You go in the cornfield and you take the corn shucks and the golden hair, what was the silk of the corn and that's what we played with," she explained. "I started with a corn cob doll and then to have a full circle that there's a doll made in your image and the image of the character is pretty incredible actually."
Incredible.
There was a 14-year-old black girl in the audience who got the chance to meet Oprah after raising $50,000 to send girls "who look like her" to see A Wrinkle In Time. Being the philanthropist she is, O matched the girl's $50,000 donation and now she has $100,000 for tickets! Sweet!
The young girl asked Oprah from some advice for girls who want to make a change in the world and of course she dropped some gems. "The highest honor on earth is being yourself," she said. "You're only true job as a human being is to discover why you came, why you are here." Perfect advice.
Peep the clip below:
Speaking of sending kiddies to see the film...
I asked @Disney if the first public screening of #WrinkleinTime could be in my hometown of Compton. They created a theater experience with fab sound + picture quality out of a community center since there are no movie theaters in Compton. I thank them. And these kids do too. pic.twitter.com/grzHoRJAHX

— Ava DuVernay (@ava) March 2, 2018
Directress Ava DuVernay went over and beyond to make sure kiddies in her hometown saw her film.
Ava went to Disney requesting the first screening of A Wrinkle In Time go down in Compton. Well, there aren't any movie theaters in the LA neighborhood, so Disney jumped into action. The company created a theater experience inside of a local community center for the screening. Aww!
The SELMA director thanked Compton mayor Aja Brown, who's planning on running for Congress against Stacey Dash, for the warm welcome, tweeting:
My thanks to the Mayor @AjaLBrown and the glorious City of Compton for welcoming me home so warmly. xo! #WrinkleinTime #WrinkleinCompton pic.twitter.com/NLOetYY9KU

— Ava DuVernay (@ava) March 2, 2018
And there's more...
Color of Change, a nonprofit civil rights advocacy organization, has teamed up AMC Theatres to give underprivileged children a chance to see screenings of A Wrinkle in Time for free. They raised enough money to send 12,000 kids across the nation to see the film. Loves it!
Also...
Ava appeared on "The View" to explain what actress Frances McDormand meant about Hollywood using "inclusion riders," working with Oprah and more. Peep her interview above.
BONUS:
In honor of #InternationalWomensDay, we are shining a light on even more empowering women. Joining our Sheroes lineup of incredible women who have broken barriers and paved the way for the next generation - see our new Global Sheroes. Share your role models using #MoreRoleModels. pic.twitter.com/4UoM9iekdG

— Barbie (@Barbie) March 8, 2018
Mattel is honoring 14 historical and modern-day female role models, including Katherine Johnson's Hidden Figures doll, through its Shero program, showcasing women who have broken boundaries in their respective fields to celebrate International Women's Day.
Photos: Splash/Backgrid/Instar/GMA's IG