Cardi B's Baby Is Supposedly Due This Summer & She's Still Performing At Coachella + Snapchat Issues Apology Over 'Chrianna' Ad, Rihanna Goes OFF!
Mar 15 | by _YBF
The rumor mill is still going about Cardi B's alleged pregnancy and now it's being reported she's due this summer. And this alleged pregnancy won't stop her Coachella performance. Sip the tea, plus deets on Snapchat throwing shade in an ad inside…
Cardi B keeps saying she's NOT pregnant and that she's just getting fat. But, the rumor mill says otherwise. And so does that mysterious bump we see when she's out in public. Her outfit choices (like above at the iHeart Radio Music Awards) are SCREAMING she's hiding something.
Sources have told TMZ that Cardi is in fact pregnant with her fiancé Offset's baby and she's allegedly due in the first week of July. And just because she's (supposedly) pregnant doesn't mean she's going to let that get in the way of her money flow.
The sources said she will also still hit the stage at Coachella next month where she'll be about 7 months along. Hmm….maybe she's waiting till then to make the big announcement?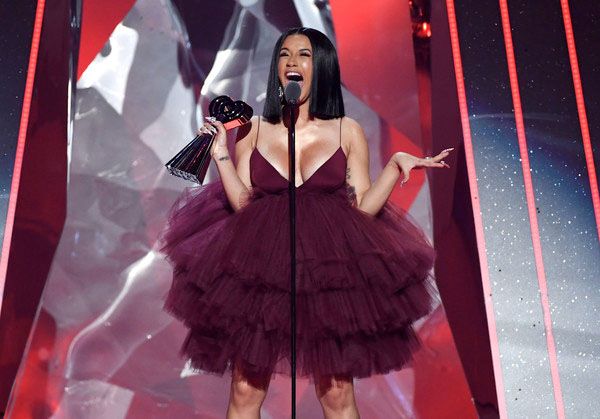 Not only is she supposed to hit the stage at Coachella, she will also reportedly go on tour with Bruno Mars in September, two months after giving birth to her baby if the rumors are true. Like we said, she stands to lose some extreme coinage if she doesn't perform, amounts to the sound of $100K per night on tour. Sheesh! And around the same for her Coachella performance.
Time will tell if there's officially a bun in the oven…
In social media news...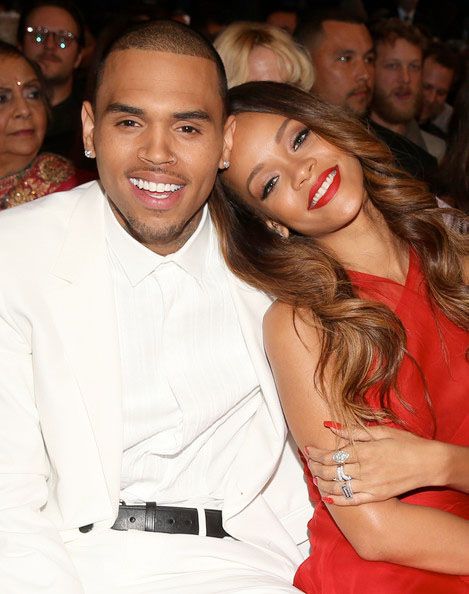 Why is Snapchat so shady?
They created an ad that has Rihanna and Chris Brown fans upset, and Rihanna herself read them for filth.
The social media platform posted an ad asking users users if they "would rather slap Rihanna or punch Chris Brown."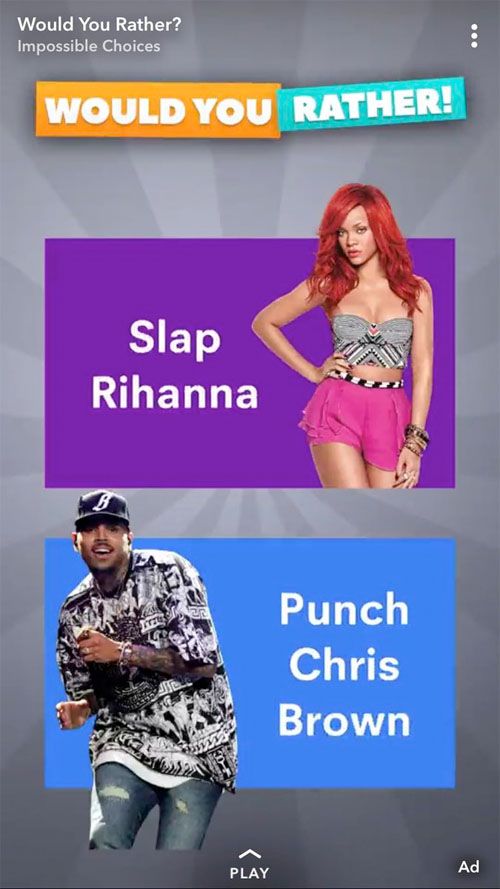 Really, Snap?
Users were shocked that the company would approve an ad that basically makes light of their 2009 Grammy domestic violence incident.
Now, Snapchat has removed the ad and is apologizing:
"The ad was reviewed and approved in error as it violates our advertising guidelines," a Snapchat spokesperson told the Sun Online. "We immediately removed the ad last weekend, once we became aware. We are sorry that this happened."
Rihanna isn't trying to hear it though. She posted to Instagram (which is shade in itself) an hour ago saying: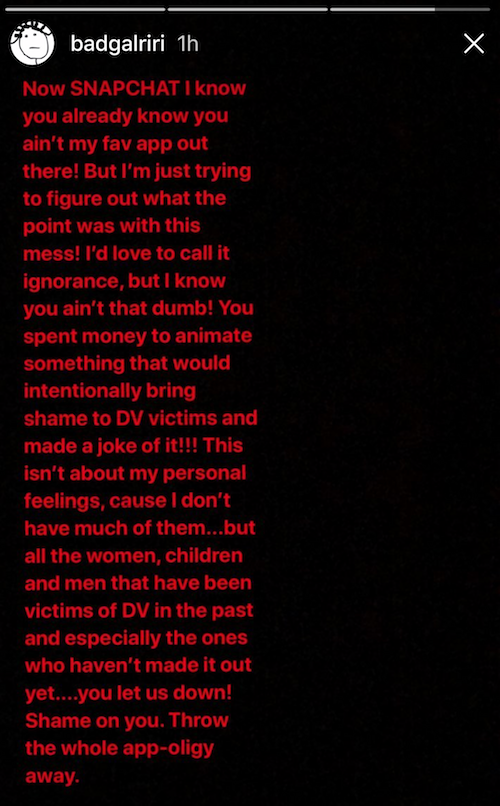 Bloop.
Bill and Hillary Clinton's daughter Chelsea Clinton called them out on Twitter about the ad:
Just awful. Awful that anyone thinks this is funny. Awful that anyone thinks this is appropriate. Awful that any company would approve this. Thank you Brittany for calling this out.

— Chelsea Clinton (@ChelseaClinton) March 12, 2018
Thoughts?
Photos: Getty