Richard Lawson Calls Tiffany Haddish A Liar - 'Beyonce Bitegate Is Total B.S.!' + Tiffany Cuts Up Over Brad Pitt On 'Fallon'
Apr 10 | by _YBF
Richard Lawson says the Beyonce Bitegate story is so not true. Hear what Bey's stepdad had to say about the scandal, plus get your laugh on at Tiffany Haddish on "The Tonight Show with Jimmy Fallon" inside…
Two weeks ago, the Internet was in a frenzy trying to crack the "Who Bit Beyonce?!" case. It's all Tiffany Haddish's fault. She revealed in an interview with GQ that an actress, allegedly drugged up, bit Beyonce on her face during n afterparty.
We still don't know who did it. The Beyhive started attacking actress Sanaa Lathan after she was accused, but she said she didn't do it. And so did actress Sara Foster after the Hive came for her as well. Chrissy Teigen even spoke out about Bitegate and said she knew who did it.
Now, someone close to Beyonce is shutting the rumor mill down. Bey's stepdad Richard Lawson says the whole Beyonce Bitegate fiasco is simply not true. While promoting BET's new legal drama In Contempt, Bey's stepdad spilled the beans to ABC News' Candice Williams.
"Please let it die," he said. "Please let it die. It's so stupid."

"It was something that was blown out of proportion and Tiffany just got a ride from doing it. And so her numbers probably jumped up," he said, referring to her social media following. "Other people jumped on the bandwagon and it's all a bunch of B.S. It's not real... It's not true."
Shoutout to Richard for giving it to us straight talk, no chaser.
Check out what he said at the 25 minute mark below:
Speaking of Tiffany...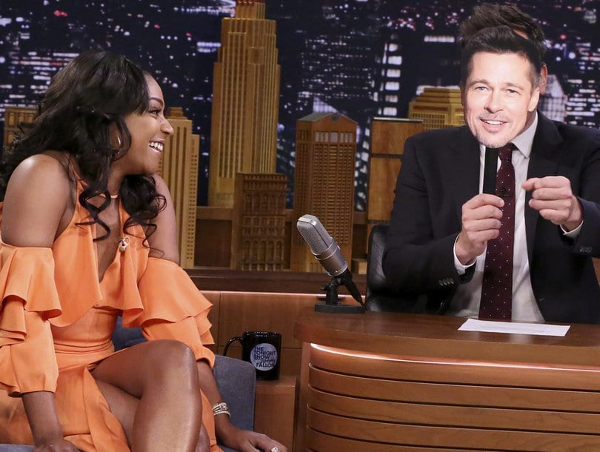 The most sought after actress in Hollywood right now made her way to "The Tonight Show with Jimmy Fallon" where she shared a hilarious story about being an elevator at a pre-Oscars party with actor Brad Pitt.
By the end of the elevator ride, the Girls Trip actress was thinking of ways on how she and Brad would make a baby on the elevator. When it was time for him to get off, she said he told her if he's single next year and if she's single next year they should hook up.
However, Tiffany said she did a Google search on Brad and once she realized how many kids he had, she changed her mind.

Peep the clip below:
Can you blame her?
Like we told you before, Tiffany is one hell of a storyteller. And this story about her "deadly ass" killing an old man has us in tears. Check it below:
Catch Tiffany every Tuesday in "The Last O.G.," starring opposite Tracy Morgan, at 10:30/9:30c on TBS.
Photos: Getty/NBC