Cardi B Will Have You Cracking Up As She Explains To 'ELLEN' How She Got Pregnant + Go Behind The Scenes Of Bardi, JLo & DJ Khaled's 'Quiero Dinero' Video
Apr 21 | by _YBF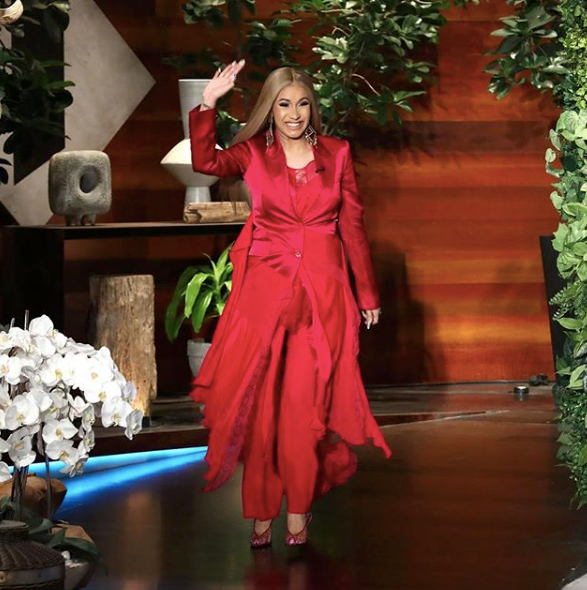 Why is Cardi B so funny? Her appearance on "Ellen DeGeneres" will have you cracking up. Go inside to see, plus go backstage with Bardi, Jennifer Lopez and DJ Khaled on the set of their new video "Quiero Dinero" inside…
Cardi B is still hot making press runs since announcing she's expecting a baby with Migos rapper Offset.
The "Bodak Yellow" singer was her authentic self during her appearance on "The Ellen DeGeneres Show" where she explains to the talk show host exactly how she got knocked up with her first baby. All that twerking she did during her debut performance at Coachella is how baby Bardi got here.
"I was just trying to show the world how I got pregnant in the first place," Cardi shared as a picture from her performance was displayed on the screen behind her. "Like that! Like that! That's how it happened."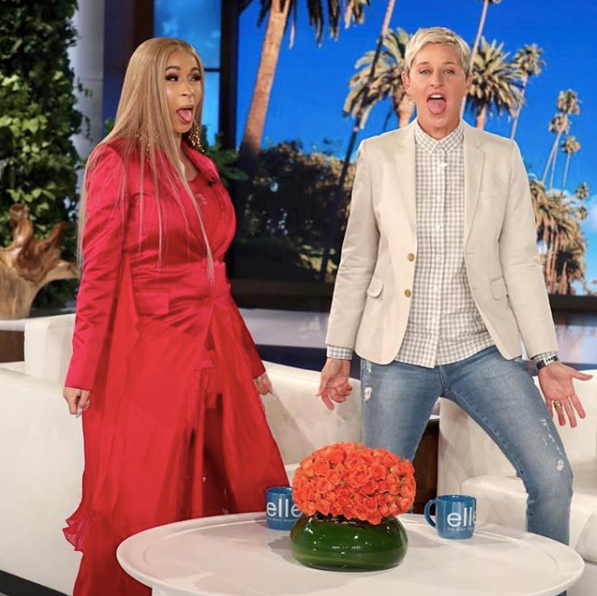 The "Bartier Cardi" rapper revealed she and Offset have already named the baby. The Migos rapper did the honors.
"My dude named the baby," she confirmed. "I really like the name. Imma let him say the name since he named the baby," Cardi B teased. "It's, like, almost tricky but when it comes out, it's like, 'Ahh!'"
The soon-to-be first time also talked about how her underarms were itching right before she revealed to the world she pregnant during her performance on "Saturday Night Live."
"My underarms started itching because it's like, 'Oh, my God! The world gon' know I'm pregnant! Oh! Here we go! Opinions! Coming!'" Ha!
Bardi talked about how she would get trouble for clowning around as a kid and more. Peep her interview below:
Just because she's carrying baby doesn't mean her grind has slowed down any...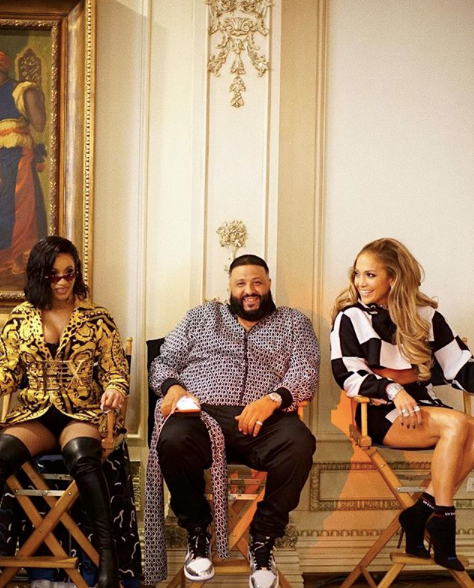 We told y'all Jennifer Lopez teamed up with DJ Khaled and Cardi B for a Spanglish track titled "Quiero Dinero," which translates to "I Want Money." Now, the trio is working on the visuals for the banger.
Before making her way on set, JLo posted a picture of herself on a plane with the caption, "Tell Cardi B and DJ Khaled I'm on my way... gonna get this #DINERO."
There are very few details about the track, but MTV was able to grab some lyrics from the song before it got yanked:
"I just want the green / Want the money, Want the cash," JLo sings over Khaled's beat. Then, Cardi hops on the track rapping, "You gon' do what I say / so Cardi B and J-Lo."
Go behind-the-scenes below:
Working with JLo comes with perks. The "Booty" singer gifted Cardi a capsule of her new makeup line:
So jelly!
BONUS:
Following Cardi B co-hosting "Jimmy Fallon," her man Offset made a quick appearance on the show to rap how he cooks up chicken stirfy. Check it above.
Photos: Ellen Show