REAL LIFE WARRIOR! Tennessee Waffle House HERO Grabs Gun From Naked Terrorist Who's Now On The Run - 'He Was Going To Have To Work To Kill Me!'
Apr 23 | by _YBF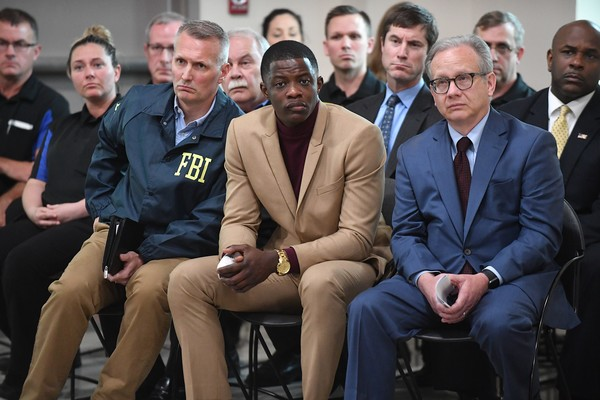 29-year-old James Shaw Jr. is a real life hero after he disarmed a naked terrorist inside a Tennessee Waffle House. True Story. More inside…
James Shaw Jr. and his best friend sat inside a Waffle House outside of Nashville early Sunday morning before gun shots ran out. Bullets came flying through the restaurant's windows, causing one man to collapse onto the floor and waiters running for their lives.
James, a member of Alpha Phi Alpha Fraternity, Inc., and his friend ran into the hallway outside of the restrooms for cover. However, James was thinking up a plan to deescalate the situation.
According to reports, the suspected shooter, 29-year-old Travis Reinking, ambushed the Waffle House in Antioch, TN at about 3:25am EST partially naked firing bullets from a AR-15 rifle. He didn't have any clothes on from the waist down.
Four people were killed.
"I remember I was like 'Dang, I'm basically in a barrel,' " Shaw Jr. said in a press conference after the shooting. "There is no place for me to go."
The gunshots stopped, and the shooter needed to reload. That's when James realized it his opportunity to disarm him.
"I kind of made up my mind... that if it was gonna come down to it, he was gonna have to work to kill me": Hero customer James Shaw Jr. describes the moment he disarmed a gunman who killed 4 people at a Waffle House near Nashville https://t.co/uXRm31g4La pic.twitter.com/UJUL3C2Uhv

— CNN (@CNN) April 23, 2018
"I distinctively remember thinking that he is going to have to work for this kill," James said. "I had a chance to stop him and thankfully I stopped him."
He added: "I grabbed the gun and kept it down. He had one hand on it. I pulled it away and threw it over the bar."
Wow!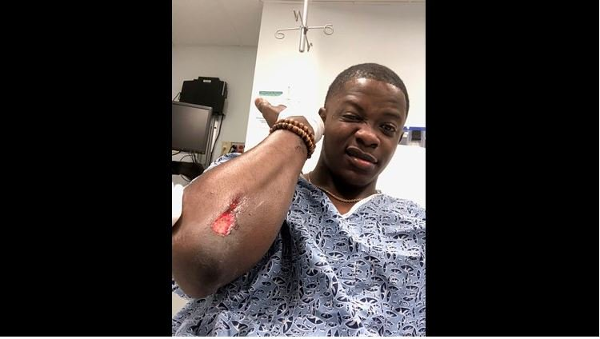 As he fought to get the gun away, a bullet grazed his arm before he was able to throw the assault rifle across the counter. He also suffered a burned hand when he grabbed the rifle's hot barrel during the scuffle.
After a brief tussle, James pushed the gunman out the door and the man walked away.
Unfortunately, four people all under the age of 30 were killed before James could disarm him. Nashville police identified the four people who died as a Waffle House employee, Taurean C. Sanderlin, 29, and three customers: Joe R. Perez, 20, of Nashville; DeEbony Groves (member Delta Sigma Theta Sorority, Inc.), 21, of Gallatin; and Akilah Dasilva, 23, of Antioch.
Metro Police have identified Belmont senior DeEbony Groves as one of the victims killed in Sunday morning's Antioch Waffle House shooting. Monday's 10 a.m. chapel service will serve as a time of prayer for DeEbony's friends and family. pic.twitter.com/Lglf8NZRuk

— Belmont Vision (@belmontvision) April 22, 2018
21-year-old Shanita Waggoner, a member Delta Sigma Theta Sorority, Inc., is still in critical condition.
Police are still looking for the gunman. According to reports, police believe the alleged gunman went to his apartment, put on a pair of pants and then escaped into the woods. A police helicopter and a police dog tried to track the suspect after the shooting, but the dogs lost the scent. As of now, there are more than 80 officers looking for the suspect, but there have been no credible sightings. Nashville schools are on high alert until police notify education authorities that the suspect is no longer in the area.
James, who is the father of a 4-year-old daughter, is being hailed as hero even though he doesn't feel like one.
"I'm not a hero. I'm just a regular person," the Nashville native said hours after the shooting Sunday morning. "I'm a believer that everybody could do what I did."
We would have to respectfully disagree. Whoever says a good guy with a gun is the only way to stop a bad guy with a gun is a liar.
Check out James explain how he took down the terrorist below:
Thank goodness he sprung into action before the gunman was able to take more lives. He's certainly a YBF hero in our book!
EXTRAS:
1. The city of Flint is getting ready to SUE the state of Michigan over tainted water. STORY
Photos: Getty