Kanye West Chats With Charlamagne For Nearly 2 Hours About EVERYTHING - The 'Breakthrough,' Paris Robbery, Therapy, Jay Z, Obama & MORE!
May 01 | by _YBF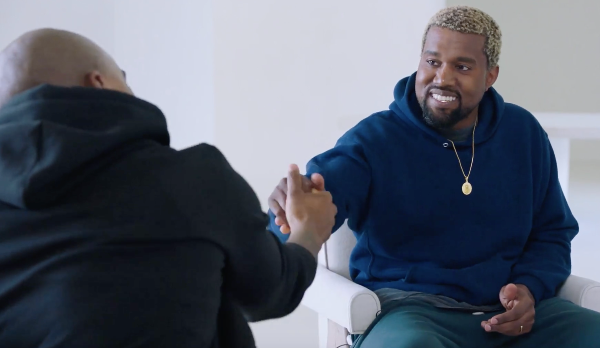 Kanye West gets candid with Power 105's Charlamagne Tha God in a nearly 2-hour sitdown interview. And they chopped it about EVERYTHING, including his "breakdown," which he prefers to call a "breakthrough," how the Paris robbery affected him, going to therapy, his relationship with Jay Z, how he felt when President Barack Obama called him a "jackass" and much more. Get it all inside…
Kanye West gives his first interview since he returned to Twitter recently. He previously teased there was an interview with Power 105 "The Breakfast Club" radio host Charlamagne Tha God, and now it has arrived.
As we all know, Ye has been pissing folks off left and right over his social media antics where he's encouraging "free thinking" by aligning himself with Donald Trump, Candace Owens and other conservatives, along with a few Alt-Right folks. However, he says he's doing good these days.
"I'm feeling good," Kanye shares. "I think I'm in a stronger place than I ever was. After the breakdown, or as I like to say, the break through."
In a nearly 2-hour interview with Charlamagne , the PABLO rapper opens up about how he's feeling now, physically and mentally. He shares what caused his "breakdown" (although he prefers to call it a breakthrough) that landed him in the hospital for over a week, and it turns out it was a number of things. Not just exhaustion.
"Fear, stress, control, being controlled, manipulation, like being a pawn in a chess piece of life," he explains. "Stressing things that create, like, validation that I didn't need to worry about as much."
The fashion maven explains why he doesn't go to therapy ("I use the world as my therapist"), how his wife's robbery in Paris affected him and why he decided to return to Twitter. He also shares how he feels about his long-time collaborator Virgil Abloh's historic Louis Vuitton deal.
Ye also talks about his relationship with his mentor/brother Jay Z, why he supports Donald Trump (he wouldn't answer if he feels Trump cares about black people), how President Barack Obama calling him a "jacka**" hurt his feelings ("You know, he never called me to apologize"), the "bravery" behind his onstage rants, and more.
Below are a few highlights:
On why he doesn't go to therapy:
"I use the world as my therapist. Anyone I talk to is my therapist. I will pull them into the conversation of what I'm feeling at that point and get their perspective. … I like just talking to acquaintances, friends, family, and I keep them on the phone for 45 minutes at a time, talking through things. It's kind of narcissistic."
On how his wife Kim Kardashian West's robbery in Paris affected him:
"I went to Paris on that trip to protect her. Not protect her physically, but to go and just help her with her looks 'cause she's in Paris. … One of the things that she said that she heard was that they were coming to rob her and they had to wait till I had left. The people had been strategizing and scheming on that for a long time. So when she finally got to Paris by herself, they were like, 'OK, this is our chance.' … If she wasn't here, I would never forgive myself."
On why he started being active on Twitter again:
"The thoughts that I'm getting out on Twitter now … I'm not doing it as a form of personal therapy. It's just an innate feeling. I want to express. I decided to use this platform to express some breakthroughs that I've had since going to the hospital. … I felt the need to speak at this point. When you look at five years from now, or 10 years from now, I'll have even more experience. I'll be in a better place than I am today. … I'm not trying to say the right thing; I'm just saying exactly what I feel out of love."
On his longtime collaborator Virgil Abloh's historic appointment to the role of artistic director Louis Vuitton:
"Some people have to do things just to prove that they can be done, whether they become the billionaire on the other side of it. Obama went into that office as a public servant in a service position. It didn't matter the amount of money or ownership. The world needed to see that this is a possibility. For Virgil, it's like, the world just needs to see things."

"The breakthrough with Virgil is now we have someone who's come from Donda, who's come from the school of Kanye West."
On his relationship with Jay Z now:
"We're good [now]. We're texting each other. It's positive energy. I haven't seen him, but I can feel him.
On what caused his "beef" with Hov:
I was hurt about [him and Beyoncé] not coming to the wedding. I understand I was going through some things, but if it's family, you're not going to miss a wedding. I'm not using this interview to put out any negative things, but I gotta state my truth. … I'm past it, but at the time I was hurt."
On the $20 million Jay said he gave Ye:
"Me and Jay's issue, my issue, came down to information," he says. "I'm super hungry for information. I need information more than I need validation, more than I need finance."

"That concept that he gave me the money, that's what frustrated me," West responds. "Actually, the money he got from Live Nation. Roc Nation was managing me at the time, and that's normal that you would give someone money – it was a touring deal. But the fact that it was worded that it came from ­– I'm a very loyal, emotional artist-person – that made me feel that I owed more than just the money itself. It put me under a bit more of a kind of controlled situation."

"That said, I think there was some love in that on Jay's part because he did have to co-sign for it when the Live Nations and these different companies wouldn't co-sign for me and I was in debt, Jay did have to go and say, 'I'ma co-sign for 'Ye.' Have you ever did something for someone that was positive, but something about the way you did it blue the whole thing up? Jay did something that was positive, but the fact that I didn't receive the information in the right way … I always feel like, I'm out here in Hollywood, my mom has passed, I don't know who I can trust. I can't trust nobody."
On President Barack Obama calling him a "jacka**":
"You know, he never called me to apologize. The same person that sat down with me and my mom, I think should've communicated to me directly and been like, 'Yo, Ye, you, you know what it is. I'm in the room and it was just a joke.'" He adds, "I just think that we were in a period where he had so much stuff to deal with, he couldn't deal with a wildcard like me,
On why he supports Trump:
"I don't have all the answers that a celebrity's supposed to have." "But," he continues, "I can tell you that, when he was running, it's like I felt something. The fact that he won, it proves something. It proves that anything is possible in America. Donald Trump can be president of America. I'm not talking about what he's done since he's in office. But the fact that he was able to do it – remember when I said I was gonna run for President? I had people that was close to me, friends of mine, makin' memes, talkin' shit, now it's like, oh, that was proven that that could have happened ... from what we've been doing in fashion to me wearing the pink polos, to me being out-spoken, to me being ostracized because of the Taylor Swift thing, or the George Bush thing, who I'm dating, who I'm marrying, who I'm talking about, all of this is an outsider thing. When I see an outsider infiltrate, I connect with that."
On if Trump cares for black people:
Kanye never directly answers this question.
On meeting with Trump:
"I'm not gonna let myself off easy by saying, 'oh, I met with Trump cause I was going through something.' I ain't gonna give the universe that. Nah, I'ma face it. And they're gonna face me. This was the 'Ye that wanted to do something to change something. And I would meet him today. And I would talk about Chicago. First. We could talk about some more things. We could eventually get into a lot of elements. But we'll start there."
On his friends warning him about sharing his feelings about Trump:
"I felt like when I came out and said what I felt, that was almost like a Clayton Bigsby moment where everyone's head exploded: 'My 'Ye, George-Bush-don't-care-about-black-people, cannot in any way [say that]' … So many people around me said, don't express your feelings. Why? Your brand, your this, your that … They say, well, what makes George Bush any more racist than Trump? ... My response is, racism isn't the deal-breaker for me. If that were the case, I wouldn't live in America."
On Harriet Tubman being on the $20 bill:
"Why do you keep reminding us of slavery?," he asks. "Put Michael Jordan on the bill. Certain icons are just too far in the past and that's what makes them safe."
On his onstage rants:
"I actually think that the rants came from a place of bravery, and I had enough of the politics. That's the world that we're in right now. People are speaking their truth, people are expressing themselves. I've been waiting for this."
This is many things.
Listen to his full interview below:
Photo: Screenshot