ICYMI: Donda's House Will Change Its Name After Rhymefest EXPOSED The Wests!
May 29 | by _YBF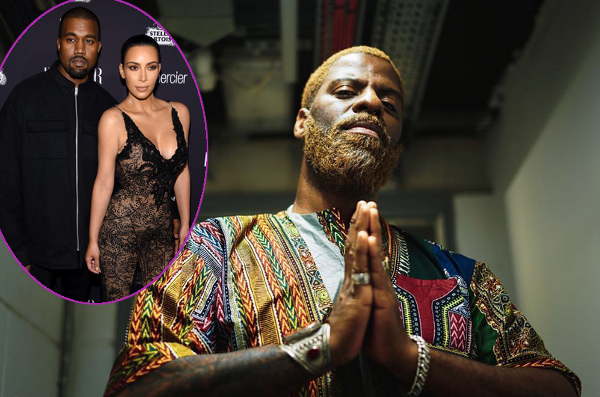 Donda's House-named after Kanye West's mother- is changing its name after co-founder Rhymefest put Kanye West and his wife Kim Kardashian West on full blast. Get the latest inside....
Donda's House is completely cutting ties with with it's co-founder Kanye West.
Following a public spat between Donda's House co-founder Che "Rhymefest" Smith and Kanye's wife Kim Kardashian West, the non-profit organization is now changing its name. The organization posted a tweet announcing the news:
Please read the attached final statement regarding the future of @DondasHouse, effective immediately: @kanyewest & @KimKardashian. pic.twitter.com/aNVWbJ1h49

— Donda's House, Inc. (@DondasHouse) May 27, 2018
"Over the last five years we have put our students and our community first. We'd like to thank all of our supporters, and we assure you that our hearts have always been with the City of Chicago and we will continue to support youth in our future endeavors. We encourage Kim and Kanye to indeed pick up the baton of service," part of the announcement reads.
In case you missed, Rhymefest put Ye on blast when he posted a tweet asking Drake to help "the part of Chicago Kanye has abandoned," Donda's House - the nonprofit to honor West's mother and provide arts education to Chicago.
He also asked folks to boycott Pusha T's new album Daytona, which was executive produced by Kanye West, and encouraged folks to use that money to donate to the organization instead.
Umm-We've actually been funding the organization since its existence. we also just paid the 5k tax bill on the home. If you'd like to volunteer or donate go to https://t.co/iFTMag9nn5 thanks for your support #luv

— Rhymefest (@RHYMEFEST) May 26, 2018
Rhymefest and Donda's House decided to no longer use the name Donda's House - youth - and to cease operating under the organization, since Kim Kardashian West- who Rhymefest says has never even visited the organization - says she's making it her mission to "take" it.
All this despite her co-founder husband being accused of abandoning it. Due to Kanye's recent reckless rhetoric, the organization has been fighting to get and retain sponsors and resources. Since Kanye has allegedly not been picking up the slack by putting his own money where his mouth is for his own organization, those who have been doing the work are moving on to their own endeavors under a different name to continue the amazing work they've done for the youth of the Chicago.
@RHYMEFEST taught me to stay true to myself and never give up on my music. DH gave me a platform to take my voice to the next level. Found my notebook that Che made us bring every week and it inspired me to write my song "Distance". Nothing but pureness of heart in every word. pic.twitter.com/amdiiEhvFU

— Kayla J (@kaylajamese) May 27, 2018
I fully, 1,000,000% #SupportDondasHouse! Read their statement regarding #KanyeWest Much love to @RHYMEFEST + @donnienicole84. Thank you for your unwavering service to our creative youth https://t.co/iJO8hUpWsM pic.twitter.com/PQaGcy0fGe

— Keena Renée (@bykeenarenee) May 25, 2018
Incredibly proud of my @DondasHouse family today! @donnienicole84 @RHYMEFEST @HakimDough https://t.co/S9FxxIDXEQ

— Spring '18 Fourmation (@KRileyTips) May 25, 2018
Chicago is my home & I will do whatever it takes to move my community forward. I can own up to the delivery of my message not always being in the most professional package but my intentions are & will always be about progressing my people.

— Rhymefest (@RHYMEFEST) May 28, 2018
No word yet on the non-profit's new name. However, Rhymefest plans to keep doing good work in the community for Chi-town's youth.
Meanwhile, the Wests are in Wyoming enjoying family time:
Wyoming pic.twitter.com/KZ257dmNmo

— Kim Kardashian West (@KimKardashian) May 27, 2018
And Kim shared a new flick of their youngest child, Chicago West this morning:
Kanye West has yet to respond to Rhymefest. Do you think he will?
Photos: Getty/ @cristopherschafer