Meek Mill Fans Hosted Rally Outside Court For Hearing, He Still Has To Wait His Fate + Kirk Franklin's Sister Sentenced To 30 Years In Prison
Jun 19 | by _YBF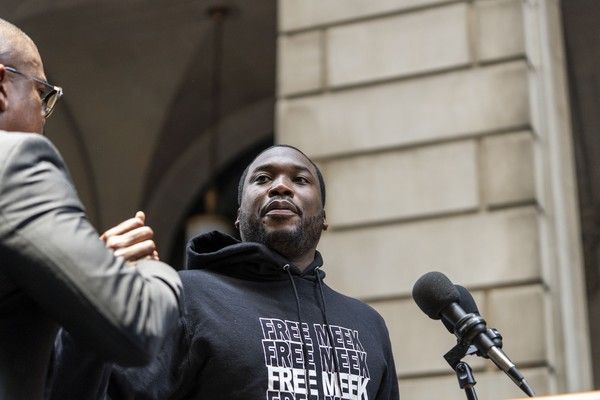 One thing is for sure, Meek Mill's fans love him. See the rally they hosted outside of the court before his latest hearing, plus details about Kirk Franklin's sister receiving a 30-year prison sentence inside...
#JusticeForMeekMill is still going strong.
Yesterday, rapper Meek Mill had a court hearing to see if Judge Genece Brinkley would grant him a new trial. Meek and his legal team have been working overtime to try and get a new one because the arresting officer is currently at the center of a law enforcement corruption scandal.
As you all know, the MMG rapper was sent to jail and was set to serve 2-4 years due to probation violation that stems from this arrest. He was eventually released after the state supreme court stepped in.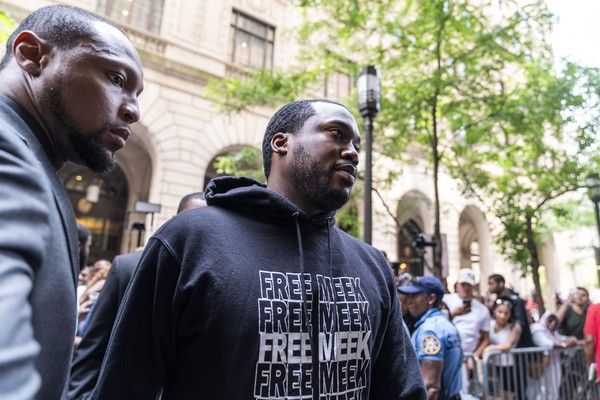 When the "Dreams & Nightmares" rapper rolled up on the scene, he was greeted by a slew of people who hosted a rally in his defense. Before heading inside, he addressed the crowd, thanking them for their support and vowed that he would continue to fight for those wrongfully convicted.
"Thank you to everyone coming out and standing up for me. It means a lot to me," he said. "I spent Father's Day with my son last night. If it wasn't for people like y'all I wouldn't be here today to spend time like that with my son. So, I wanna say thank y'all."
Check it: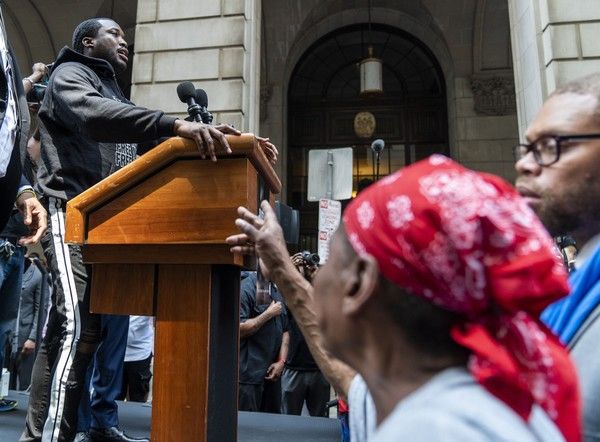 As expected, Judge Brinkley isn't budging. She didn't make a ruling about whether or not Meek will get a new trial and said a ruling would be made "in due time." Meek spoke to his supporters after the hearing and said his expectations going into the hearing were low, and Judge Brinkley didn't disappoint.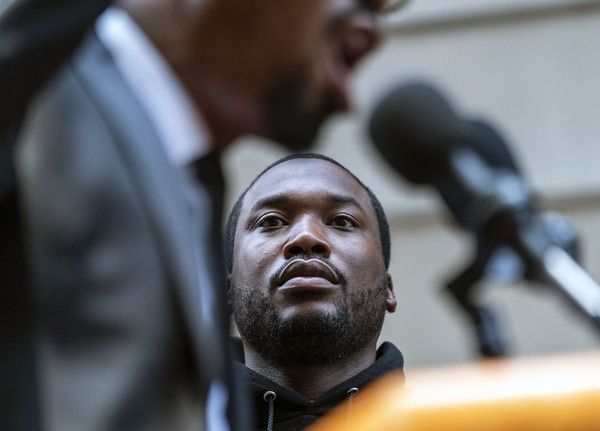 Not only have Meek and his legal team been trying to get a new trial, they have also been trying to get Judge Brinkley off his case after claims that she is "bias" and that she has a personal vendetta against him.
Peep the clip below to see Meek address his fans after the hearing:
Guess he'll just have to wait until his next court date to learn his fate.
In other news...
Gospel singer Kirk Franklin is going through it. And his Father's Day was darkened by some bad news.
He learned his younger sister, who previously served a 10-year prison bid on drug related charges, was recently sentenced to ANOTHER prison stint. This time, she'll have to spend 30 years behind bars.
He made the announcement via his Instagram page on Sunday (June 17th). He's now questioning himself if he could have done more:
Aww!
The Christian Post dug up some old interviews where he talked about his sister and her troubled past:
"For over ten years, my younger sister was incarcerated in a facility here in Texas. She was in love with a young man who was [a] drug dealer," Franklin explained at the time. "He introduced her to not only selling drugs, but using as well. When he was arrested for drug trafficking, she was arrested along with him. After she served her time, she was brought before the review board who determined she was ready to be released and brought back into society. The documents were signed and she was set free... but only on paper."

A few months after she was released from prison, Franklin said his sister relapsed.

"After a few months back into the free world, it became obvious to me rather quickly that my sister was still in prison. It's what they call being institutionalized. She quickly started using again, becoming very reckless with her body, which turned into her using it as a means to pay for her habit," he explained.
Sad. Prayers for his family.
Photos: Getty/MEGA