Tekashi 6ix9ine Investigated For Chief Keef Shooting, Mourns XXXTentacion + Rich The Kid Capes For Girlfriend Tori Brixx + Drake's Mom Reacts To Son's Rap Beef
Jun 19 | by _YBF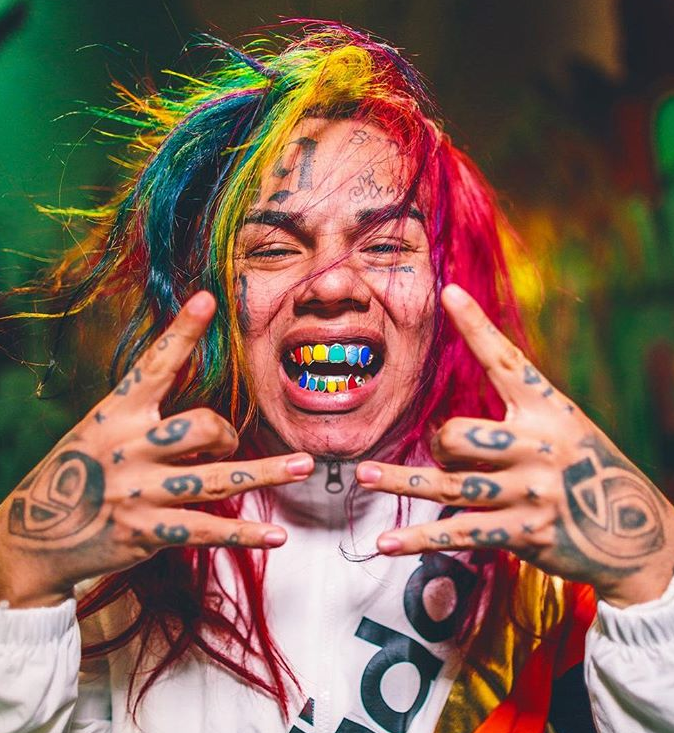 We've got a rapper round up! Tekashi 6ix9ine is being investigated by police over the Chief Keef shooting, Rich The Kid says his girlfriend Tori Brixx did not set him up, and Drake's mother Sandi Graham reacts to her son's rap beef with Pusha T. Everything inside...
It's A LOT going on in the rap world right now.
The NYPD has launched an investigation against rapper Tekashi 6ix9ine to see if he had anything to do with rapper Chief Keef being shot at.
Earlier this month, Chief Keef was shot at outside of the W Hotel in Times Square. Luckily, the shooter(s) missed and the Chicago native was unharmed. Tekashi was in L.A. at the time of the shooting, but police want to investigate to see if he had anything to do with it, like was he the one who ordered the alleged hit.
According to TMZ, the police have 2 suspects that they caught on surveillance video stalking Keef before the shooting:
We're told NYPD has 2 suspects based on surveillance video, and know they stalked Keef the night of the shooting -- first showing up at China Chalet restaurant where Keef was hanging downtown ... then jumping into a dark-colored Ford Econovan.

After driving to midtown, we're told the suspects parked the van around the block from the W and walked to the hotel to wait for Keef. When the rapper walked outside with a friend to smoke a cig, the suspects pounced. Keef and his friend heard shots and saw a muzzle flash.
The alleged shooters fled in a van that was eventually found in Brooklyn. No one was hit during the shooting. Thankfully.
Following the death of rapper XXXTentacion, Tekashi is now reevaluating his life choices. He has been out here wilding, but now he's considering calming down some.
He hopped on Instagram after XXX was killed and here's what he had to say:
He also shared a screenshot of DMs XXX sent him with his last message being sent just two days before he was shot and killed:
In other rap news...
A few days ago, rapper Rich The Kid was visiting his girlfriend Tori Brixx at her house when several masked men, some brandishing guns, reportedly rushed into her home demanded all their jewelry and money! The rapper was attacked in the process while trying to fight them off and was eventually hospitalized. He has since been released.
Rumors started circulating that his girlfriend set him up and she quickly hopped on social media to defend herself. Rapper The Game was quite vocal about her alleged involvement. However, Rich doesn't feel the same. He hopped on Instagram Live to let everyone know Tori had nothing to do with the robbery and she did NOT set him up.
Peep the clip above.
These rappers have to be more careful out in these streets.
Speaking of rap beefs....
Drake's mom Sandi Graham is NOT here for rap beefs! TMZ photogs spotted Mama Drizzy leaving Delilah in WeHo where they asked her how she felt about her son's feud on wax with rapper Pusha T and rap beefs in general. In so many words, she called it child's play. Peep the clip above.
By the way, Drake's SCORPION album drops June 29th.
EXTRAS:
1. The brother of NBA star Zach Randolph was fatally shot at Hop's Blues Room in Marion early Sunday. Investigators have determined that a fire was also set at the Indiana bar where the shooting occurred a day later. STORY
Photo: Tekashi's IG