Cardi B Explains How Offset Reacted To Pregnancy, How The Internet Ruined The Big Reveal & Becoming The 4th 'Baby Mom'
Jun 20 | by _YBF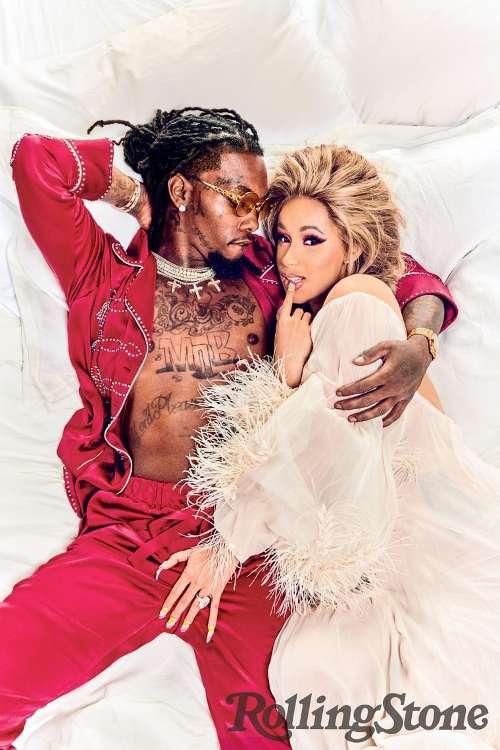 Cardi B and Offset are sharing their Hip Hop Love Story in the newest issue of Rolling Stone. Go inside for the highlights, plus pregnant Cardi is still popping off on folks on social media....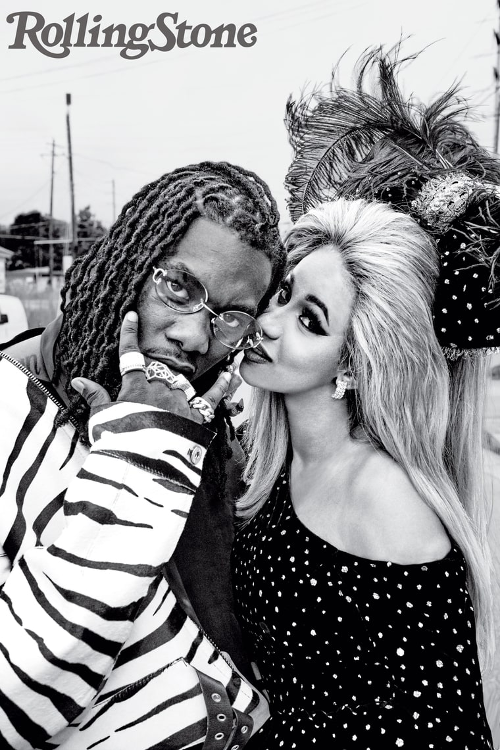 Cardi B was not happy when her and Offset's Rolling Stone cover was leaked online before it was set to be released. But now, the cover story is here and she and her fiance are dishing on their Hip Hop Love Story.
Inside their issue, the first-time-mom-to-be shares the Migos rapper's reaction when she first told him she was pregnant. She reveals during some pillow talk, they talked about having a baby, however, she didn't think it would come so soon. When she started having pregnancy symptoms, she took a pregnancy test and it came back positive. She immediately FaceTimed Offset to share the news.
"He was like, 'What? Are you sure?' " she says. "I said, 'Yeah.' And then he just started smiling really hard."
She wasn't sure what to do when she first found out.
"He said, 'What do you mean, what are you going to do? You're going to keep it.' " She was consumed with worry. "A lot of successful women have kids, and a lot of successful artists have kids, but not at the peak of their career," she says. And when she told her close friends and her team, they were apprehensive. "It was like, 'You can't do this. This might f*ck up your career,' " she declares, resting her hands on her lap.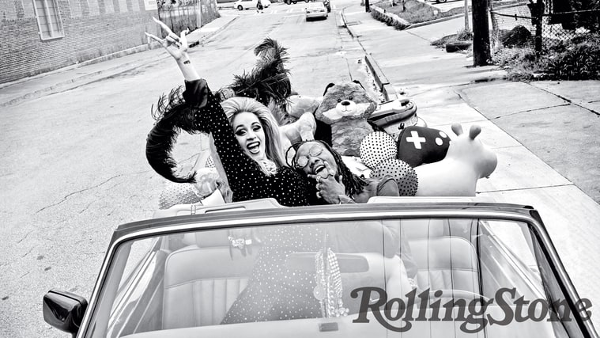 This is Cardi's first child and it'll be Offset's fourth. He has three other children from three previous relationships. The "Bartier Cardi" rapper opened up about that fact too:
"People want to make fun of me, saying I'm the fourth baby mom," but "I know I'm not having a baby with a shitty-ass man."

Offset explains, "We really love each other. She's real. I wanted real. I also wanted successful." He isn't threatened by his fiancée's success, as some men might be. "My mama was the man of my household," he says, adding, almost as a proclamation, "Guys, fellas! You'll lose your wife trying to stop them from being the best they can."

These days, Offset is trying to take a page from Cardi and become more open and engaging in public, instead of portraying himself as hard. "That's what I need to work on – my charisma in front of people," he says solemnly.
We gotta admit, it's quite sweet when couples learn from and better each other in multiple ways, regardless of whether it works for everyone else.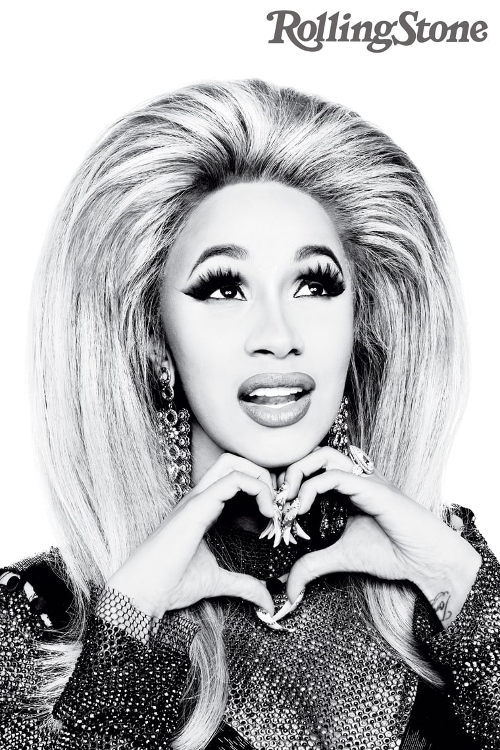 The "Bodak Yellow" rapper said the media got in the way of her telling her label, Atlantic Records, about her pregnancy.
"The media didn't even let me tell people, and I hated that," she says. "I really wanted to tell them [Atlantic Records] myself, to sit down with them and tell everybody that I am pregnant and I have a plan."
Now, Cardi is nearing the end of her pregnancy and gearing up to welcome her baby girl. She has been in Atlanta - Offset's home - a lot lately, so we assume that's where she's going to have the baby.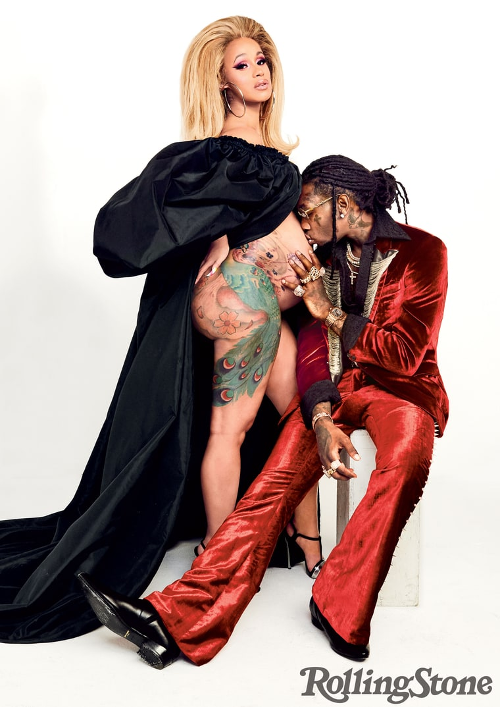 When Cardi and Offset aren't working, they enjoy spending time together in the house rather than going out all of the time.
"We work. With a day off, we'll be in bed all day, just enjoying each other's company. It ain't about going to no movie, no dinner, nothing. We can go eat McDonald's or Wendy's. She might want a chocolate Frosty." He adds, "We done so much bizarre shit with each other – rings and cars and chains. We got that out of the way."
Yeah, they're winning us over. Sue us.
You can read their full interview here. Peep the behind-the-scenes clip below:
Speaking of being in Atlanta...
Over the weekend, Cardi made a surprise appearance onstage alongside her man, who was performing for Birthday Bash in Atlanta. Peep the clip above.
Meanwhile....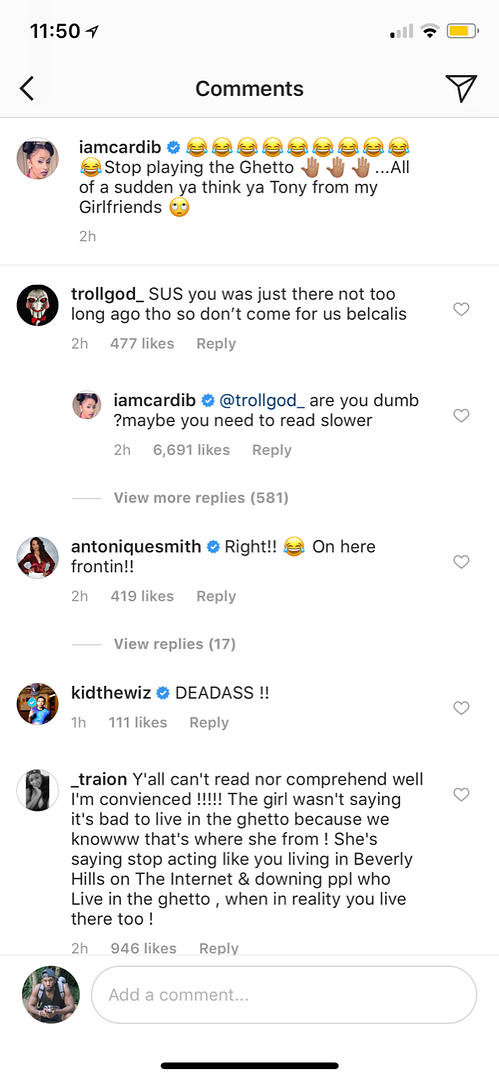 Cardi is still popping off on folks in the comments section on her Instagram. Lordt. Someone please take her phone so she can actually focus on the last bit of this pregnancy!
We do love that she does put her IG fingers to use about pressing social issues though, unlike many of her counterparts.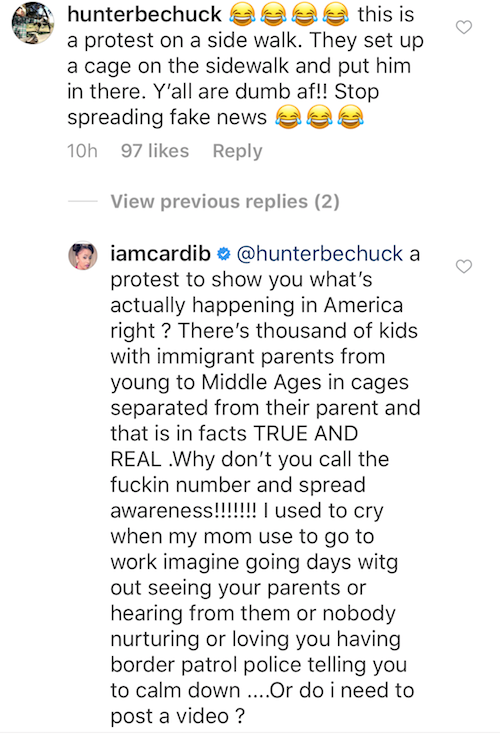 It's also just been announced that Homeland Security Secretary Kirstjen Nielsen is drafting an executive action document to end the separation of families policy at our borders. Whether your President will sign the order or not....is yet to be known.
Photos: Ruven Afanador via Rolling Stone