Da Brat Says She's NOT Muting R. Kelly & Asks 'Where Were The Parents?' + Erykah Badu Clarifies R. Kelly 'Support' That Got Her Boo'd + Yo-Yo Reveals Kelly's People Hit On Daughter Behind Her Back
Jan 21 | by _YBF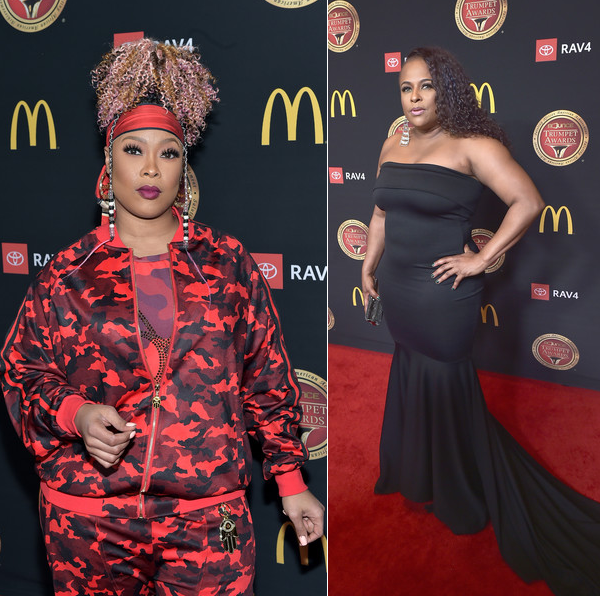 Rap queens Da Brat and Yo-Yo addressed the R. Kelly scandal on the red carpet at the 2019 Bounce Trumpet Awards this weekend in Atlanta. Also, Erykah Badu clarifies her R. Kelly "support" after she got boo'd to no end in Chicago.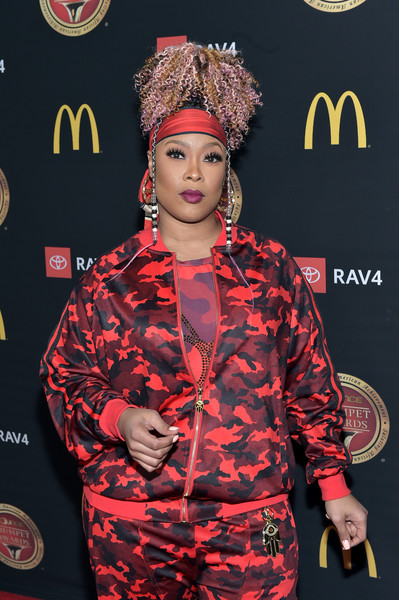 As R. Kelly is still (rightfully) under fire following LIFETIME's "Surviving R. Kelly" docu-series, there's one female rapper that still has his back.
On the red carpet at the 2019 Bounce Trumpet Awards held at The Cobb Energy Performing Arts Center in Atlanta, rapper/radio personality Da Brat defended her childhood friend and even questioned the parents of the young ladies who claim R. Kelly sexually assaulted them - some while they were minors.
"You can't ask me that, you know? It's a rough one," Da Brat responded to TMZ on the red carpet. "I do think he needs help. I love him. I grew up with him. Ms. McLin - we had the same music teacher, we were around the same circles as kids."
While she admitted Kelly needs help, she placed a lot of the blame on the PARENTS of the victims.
"I've never seen him do anything bad, but I don't believe all these people are lying. But at the same time, where are the parents? So, you know, I think he needs help for sure. I love him. I hope he don't get mad at me. And I think the parents need to take responsibility. Where is your 14-year-old child? Why are you there?"
Really, Brat? Any parents who willingly allowed their child around even a suspected child abuser is, in fact, problematic. They have additional blame. But this isn't an "or" situation. Kelly's still 100% responsible for his actions.
Needless to say, she will not be joining the #MuteRKelly movement any time soon. She continued:
"I can't stop listening to the music. Never will I stop listening to the music. I may not buy it anymore, but it's already in my playlist."
Peep the clip below:
Yet another example of someone DEFLECTING on the real problem, which is a grown MAN pursuing, and allegedly raping, underaged and teenaged girls. That's the issue. PERIODT.
Brat isn't the only artists defending the "Ignition" singer....
Erykah Badu seemingly showed support to the disgraced singer in his hometown during her show at Chicago's Aragon Ballroom on Saturday.
"I don't know how everyone else feels about it, but I'm putting up a prayer right now for R. [Kelly]," she told the audience after pausing her performance. "I hope he sees the light of day if he has done all of the things that we've seen on TV and heard those ladies talk about [on 'Surviving R. Kelly']"
She continued:
"What if one of the people that were assaulted by R. Kelly grows up to be an offender. We gone crucify them? I mean, how do we do this? Just something to think about."
Folks weren't feeling it and boo'd her. Peep the clip above.
As expected, she received tons of backlash on social media, so she decided to clarify what she meant in a tweet:
I love you. Unconditionally.
That doesn't mean I support your poor choices.
I want healing for you and anyone you have hurt as a result of you being hurt. Is that strange to you ?
That's all I've ever said. Anything else has been fabricated or taken out of context. - eb

— ErykahBadoula (@fatbellybella) January 21, 2019
As for another woman in the industry...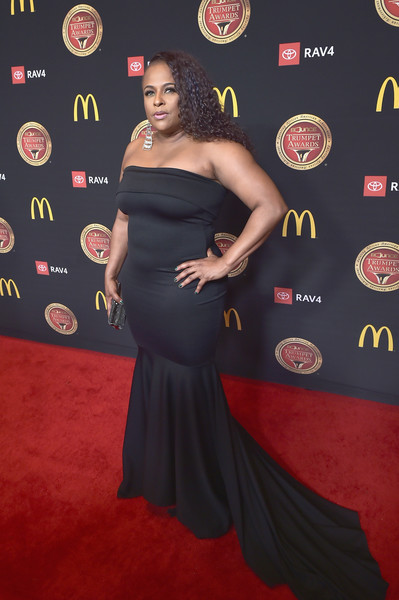 Rap legend Yo-Yo was also asked how she felt about R. Kelly now that all of these detailed allegations have surfaced. She has her own R. Kelly story that could have resulted in her 21-year-old daughter getting tangled up in Kelly's alleged sex cult.
"I actually went to listen to his music [at a LA studio] and my daughter came with me," she explained. "The sad part was when we got home, my daughter said, 'Mom, someone passed me R. Kelly's number. I said, 'What!?' She's like, 'Mom, please don't say nothing. This is why I didn't tell you.'
Yo-Yo said she had heard rumors about the "I Believe I Can Fly" singer before, but it really hit home when her daughter told her how his crew tried to come at her behind her back.
"I didn't say anything, but you know, it really let me know that there is a real problem," she continued. "It really let me know that there really is a problem because with all of that that was going on for that to still happen and it happened to me. I was thinking 'I'm your friend. I come here with my daughter who's over 21, but you don't know my daughter's age, and behind my back? You will slide my daughter your number?' That's just weird to me, like a weirdo. Who would do that?"
A sick minded person would do that, that's who. It's unclear exactly when this happened, but it sounds like it didn't happen too long ago.
Peep the clip below:
Thoughts?
Photos: Getty