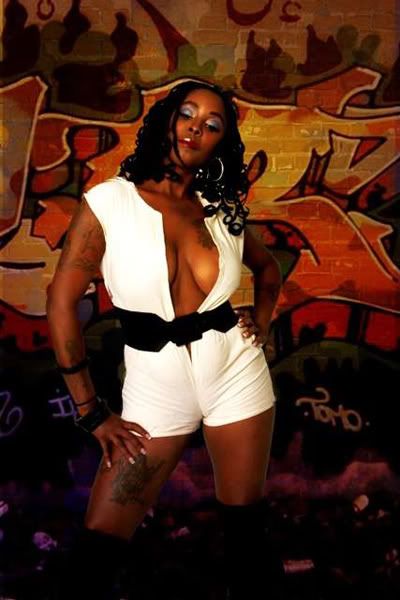 Myspace.com
So
Camel Toe Khia's rant about Trina the other day
just wasn't enough for her. This chick went and bought
Trina
's new cd and decided to post an album review about it--since she didn't want people calling her a "Trina Hater" anymore. She commented on each track, but my brain can't handle it all.  So here's a snippet:
FIRST OFF!!!! LETS START WIT DA ALBUM COVER!!!!! LIKE I SAID B4..... DAT BULLET AINT DA ONLY THANG DATS BEEN IN HER YUCK MOUTH.. AND FROM DA LOOKS OF THANGS HER HEAD IS BIGGER DAN HER BODY NOW!!!! SHE LOOK JUST LIKE DAT BOBBLE HEAD ON HER PAGE!!!!!!! NOW DATS ONE THANG DA BITCH GOT RIGHT!!!!!! DAT BLACK DRESS IS A HOT MESS....... SHE LOOKED LIKE A BURNT THIN-IN DINNER!!! ALL I SEE IS RIBS AND BONES.....SINCE DAT PEDIALITE AND ENSURE AINT WORKING. I HIGHLY RECOMMEND.....STEROIDS AND DONKEY MILK!!!! CUZ HO YOU LOOK LIKE U ON UR LAST TRIMESTER.. AND BITCH PLEASE DONT BLAME DAT RAPID WEIGHT LOSS ON DA LEMON JUICE DIET!!! CUZ WE ALL KNOW AINT NO BITCH OUT DA HOOD WILLINGLY LOOSE ALL DAT WEIGHT!!!!! YESSSSSSSS!!!!! HO U AINT PARIS NOR NICOLE AND IN DA HOOD, THE BOYS ARE SCARED OF U POINTING AND WHISPERING..... SHE LOOK LIKE SHE GOT DAT THUNDA LIGHTNING!!!!!!!! NOWWWWWWW!!!!!WE GOING INTO THE INSIDE OF THE ALBUM COVER...... STARTING WIT DA FEET!!!! WHY DIDNT YO GLAM SQUAD..... TERRENCE DAVIDSON, MISA HILTON AND NADINEEEEEEEEEE TELL U TO GET A PEDICURE GURLLLLLLLLLLLL! YO FEET IS CRUSTY AND YO WIG IS DUSTY AND YO HEAD LOOK BIGGA DAN YO BODY!!!! WHAT IS REALLY GOIN ONNNN???????? FROM DA LOOKS OF THANGS, DIS WAS A BAD TIME FO YOU TO PROMOTE AN ALBUM!!! U SAY IF MINE EVA COME OUT!!! U SHOULDVE WANTED ANYBODY TO SEE U ... LOOKIN DA WAY U DO!!!!!AND DEY NEED TO BE FIRED IMMMEDIATEDLY!!!!! IT LOOK LIKE U BEEN WALKING DA HO SCROLL ALL UR LIFE!!!! BITCH, WASH UR ASS CUZ UR FEET SHOULD BE DA FIRST THANG DAT HIT DA WATER!!!!!!MOVING RIGHT ALONG!!!!!!!
Oh, but there's more...