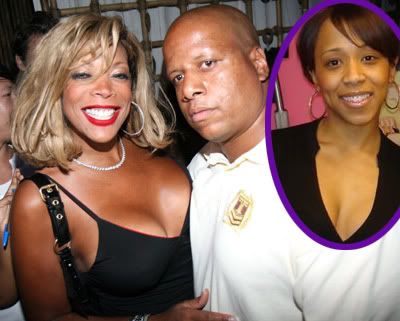 Photog: Nunez/Wireimage, Wendy, her husband Kevn Hunter, and Nicole Spence (inset)
The Wendy Williams saga
is still going. I received this little e-mail in my inbox this morning:
To Whom It May Concern: On Monday, March 31, 2008 supports of talent booker for the Wendy Williams Experience Nicole Spence will be having a protest to demand Wendy Williams to be removed from the air waves of 107.5 WBLS. The protest will start at 2:00pm sharp and continue til 7:00pm. At the WBLS Station located on the corner of 3 Park Ave. & 34th Street. New York, NY it's time that we take a stand for all victims of sexual harassment in the work place especially in the entertainment industry. We are calling women and men to come out and join us this Monday. We plan for this to be a peaceful and successful protest; we ask that supports come out with banners saying "Justice For Nicole Spence".
Interesting that Wendy has her own talk show in the works that's already in its final stages of production. The publicity game is a funny one. Take it how you wanna.