Here we go again: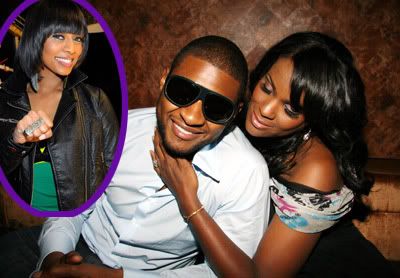 Photog: Nunez/Gallay/Wireimage
Tameka Raymond
has been known to lay into her husband
Usher
about who he can and can't have in his life--esp. where women are concerned. And it looks like the pot is stirring again. Usher tapped
Keri Hilson
to be his leading lay for his "Love In This Club" video, but apparently Tameka wasn't feeling it while she watched them shoot it this weekend. Chick got salty and let everybody know:
"It was supposed to be a sexy video shoot," our spy said. "And Tameka was there the entire time guarding like a watchdog. It was ridiculous - she knows Keri and knows she's no video ho or Karrine Steffans." Steffans, nicknamed "Superhead," wrote the book, "Video Vixen," about her alleged flings with Usher and several other artists.
"Tameka is very insecure," our source said. "Even in rehearsals she was weird and clearly not happy that Keri is so gorgeous. Tameka threw a lot of attitude. The day of the shoot, Tameka dressed Keri very badly - she looked like an extra. Tameka wouldn't let Keri have her hairdresser there - she had to use the hairdresser who was doing the extras."
Sources also say Tameka banned Ursh's longtime choreographer
Jamaica
from the set. But Usher's manager
Benny Medina
says Keri was happy about Tameka's styling choices (so Ursh gave her a job?) for the vid and Jamaica arrived a day late.
*side eye*