So
Rihanna's
 younger brother
Rorrey
 reportedly had some words for her man
Chris Brown
when Chris visited Barbados and her fam: 
Rihanna's brother Rorrey on the right talking to Chris while partying it up in Barbados
OK!
Magazine is reporting on Rorrey and Chris' convo and Chris' meeting the fam: 
"He told Chris that PDA was tacky and said he may be a little too short for his sister!" Still, the pal adds, "Chris loved seeing all the pictures in Rihanna's family home of her winning Miss Combermere, [a local beauty pageant she won at 16], lounging on the beach and singing in local clubs. He cares about Rihanna. Things have started really heating up from friends to something more."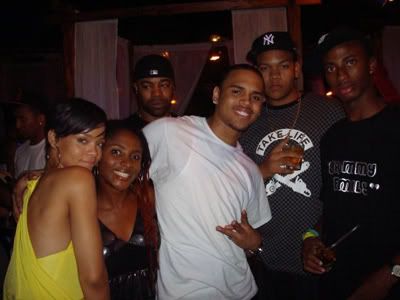 And clearly everybody partied it up nicely after.