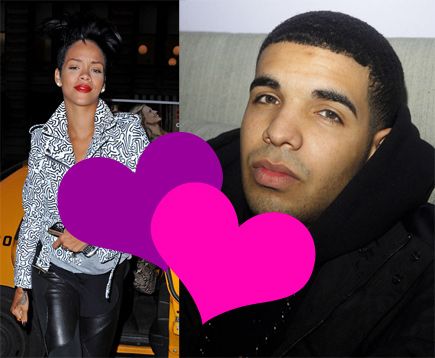 When
Rihanna
got back into NYC Monday after her Hawaiian getaway, she headed out to Lucky Strike with some friends.  And
word
has it, rapper
Drake
was in her little posse and served as her make-out buddy all night:
Rihanna is officially over Chris Brown. The Barbadian beauty showed up with a group of friends Monday at Lucky Strike Lanes & Lounge on West 42nd Street, but spent most of the night locking lips with Canadian former child actor-turned-rapper Aubrey "Drake" Graham. "She was drinking whiskey and apple juice and making out with him all night," says a spy. "They were really cute together." Rihanna, who's also been spending time in town with Katy Perry, peeled off with Drake at about midnight.
Hot damn.  Every other day chick is allegedly gettin' it poppin' with a different dude.  If this one is true, whichever chicks didn't hate her before, damn sure hate her now.  I guess he thinks she's the f'in best. And as we all know,
Rihanna
spent last week and Mother's Day "working" in Hawaii with her big brothers
Kanye
and
Jay-Z
and other friends.  And thanks to
Radar Online
, here's the pics of her chillaxing beachside and in the pool:
Cute swimsuit.  Sources say she was looking very relaxed and picture perfect as she frolicked around Waikiki.  And even took pics with fans who almost caught a beat down by her bodyguards when they approached her.  Fun times for everyone. More pics of Rih's Hawaiian getaway after the jump...