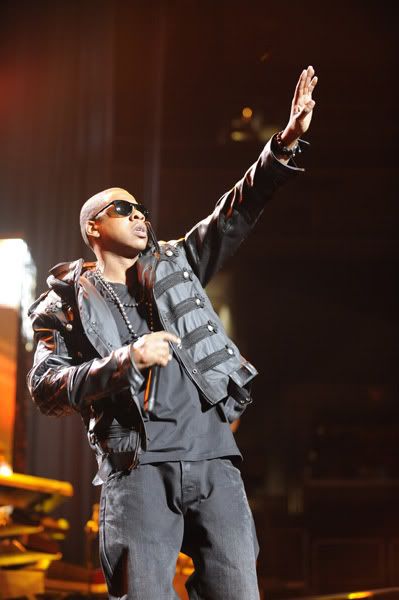 YBF was on the scene at last night's BluePrint 3 tour stop at the Washington D.C. Verizon Center. And at the beginning of
Jay-Z
's set, a crowd goer obviously thought he could be a better hype man than
Memphis Bleek
.
A short dude from stage left jumped over the yellow jacket security surrounding the stage, hopped his ass on the stage, and danced up to the middle where Jay and Bleek were like he belonged in the set too. Funniest.Ish.Ever. Mr. Carter's tall, bald, and burly (and scary) bodyguard Norm semi-nicely tried to get his ass off the stage. After dude tried to fight back, bodyguard literally
bodied
homeboy, yanked him up and
tossed
his ass down off the stage--a few feet drop down. Unreal yet hilarious. Jay's response:
"So that's how y'all doing it in D.C.? Cut that sh*t out. [insert Hov laugh]"
More recap from the concert when you read the rest...