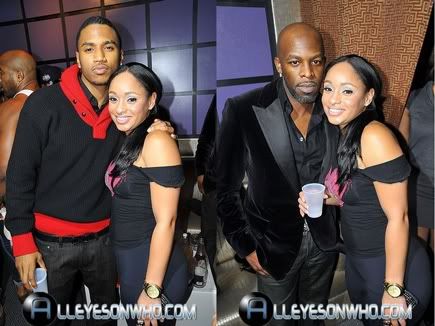 Drama at
Trey Songz'
25th birthday party in Jersey!  So last night, Trey hosted a bash at Lounge 501 in New Jersey and had guest
Tahiry
(
Joe Buddens'
ex) there too.  All was well until R&B singer
Joe
showed up in the mix.  He wasn't necessarily invited, but the club accommodated him anyway.  Unfortunately, he and his crew were seated in Trey's VIP section.  Trey was cool with the situation--even toasted with Joe in the middle of the party.  But Trey's security and camp wasn't having it.  The two camps threw punches at each other and duked it out--with Trey getting slightly involved in the end.  Check out what our source who saw everything first hand had to say as they were hired to photograph the whole party:
R&B singer Joe came through Lounge 501 last night, but wasn't a booked act. So naturally the club tried to accommodate him. Here's the underlying drama, Joe was seated in Trey Songz section. Now Trey arrives and although everything appeared to be cool, Trey wasn't that excited about Joe taking up his space. No one really wanted to let Joe know he had to move from that area (assuming because he had the gonnies with him). And Joe's goons weren't that excited about them being side eyed by Trey's people! Joe's goons got a lil roudy with Trey's security and a small scuffle begin. And based on the looks of Joe's camp they weren't victorious. By this time, Joe's people are being escorted out by Trey's security looking a bit hurt, but the situation appears to be tamed. That's when they turned back and attempted to finish what they started. Now Trey's skinny ass gets involved and gets knocked down. And more so than Joe's camp being involved, all the regular dudes were throwing punches and trying to get at him. They were trying to kick him and punch him. Eventually the situation was ceased and Joe's camp left the building. In all the mayhem Trey and his camp left without a scratch. Joe's camp on the other hand, not so much!
Right after the party, Trey Tweeted this:
Had a good night despite the hate. Miami Tomorrow, Jimmy Kimmel, Monday. Realize ur blessings and appreciate them, I'm trying 2 do the same!
Wow. We're still doing this fighting ish in the clubs? Smh. More party pics under the cut...