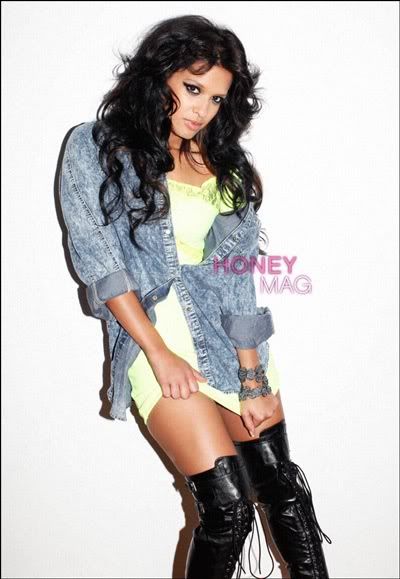 Well well well. 
HoneyMag.com
interviewed 106 & Park's
Rocsi Diaz
for their "Honey Girls" in media featurette.  And we've got some real interesting quotes from the interview where Rocsi talks about bloggers and the public simply hating on her "just to have something to talk about", her anorexia, and how being a Latina on BET is rough on her. Interestingly, the Honey Mag crew was specifically instructed to not ask questions relating to Rocsi and
LisaRaye
's then husband's relationship:
The drive to be a TV host and the price to be pay to get there and stay can be can be draining so Rocsi is perfectly aware that her demeanor comes off a bit cold. She admits it took her BET producers months to realize that she didn't hate them. "Rocsi the personality and Rocsi the person are two different people," she says. Rocsi sits down with HoneyMag.com to discuss the rumor mill, cyber attacks, dealing with anorexia and how she's learned to deal with it all.
On the Cyber attacks
"I think a lot of these Web sites need a story. They need to find somebody to pick on, and I just so happen to be one of those girls. I've always had that coming up against Free on a black network and not being black." "With men in my life, I've always made good choices. I would love to think that. It's just really hard to trust people, and that's just coming from not knowing everybody's intentions," Rocsi says. "It hurts when my brothers call me," Rocsi says. "I mean it's real bad when it gets to the point where everything's so unbearable. You really got to have that strength, because if I didn't have that strength in me, I would kill myself. There are some days when I'm like 'How bad do I want to kill myself right now? What is the point of going on when so many people despise me or hate what I do?'" "I got where I'm at because of my work," Rocsi insists. "I never had to lay on my back to get where I was. I come from a Latino background where family and the way we were brought up was very important. That's how we conducted ourselves as ladies. And that's a very important thing to my family, so yeah, when these blogs come out and they start talking shit — you're messing with what my parents instilled in me. And I know it isn't true. But I'm glad I have great family members who know that I wasn't brought up that way, to not be blinded by this industry."
*blank stare*
I'ma just let
y'all
have at this.... More pics and snippets when you read the rest...