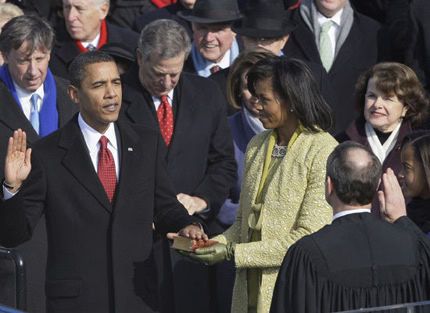 So I had these huge hopes and dreams of doing a continuous post of everything going down live from The National Mall this 56th Inaugural Day for the now President
Barack Obama
. But thanks to the droves of people, my lack of sleep, and no type of reception anywhere in DC today, you're getting it now.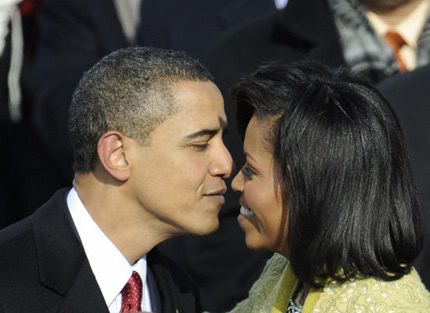 The 3 hour journey to the Capitol (which would regularly be a 15 minute trip) was a hot ass mess, but people definitely made the best out of it. I can almost bet money that DCPD had a conference on how to make the getting around as hard as possible for folks. But YBF made it to the scene in time to take in the fabulous events from the beginning to the end. People were everywhere, it barely made it above 20 degrees today, and getting to your spot was ridiculous even WITH tickets. But it was all worth it. Check out the President's swearing in and speech as his family and Michelle's looked on: *Goosebumps*
First Lady Michelle Obama
looked absolutely stunning in her yellow gold and green ensemble. It was made by Cuban designer
Isabel Toledo
. It was a straight and glitzy dress (that honestly looked better in person than it does in pics), topped with a patterned diamante collar-line. Her gloves were from J.Crew and green kitten heels from Jimmy Choo.  But I wasn't loving the hair. 
Malia and Sasha Obama
were utter cuteness and rocked J.Crew coats. While their dad rocked his usual black suit, white shirt, and red tie. And had so much swagger while doing so.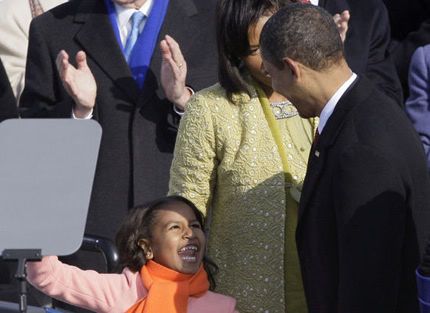 Read the rest for celebs spotted at the event and more of the First Family...