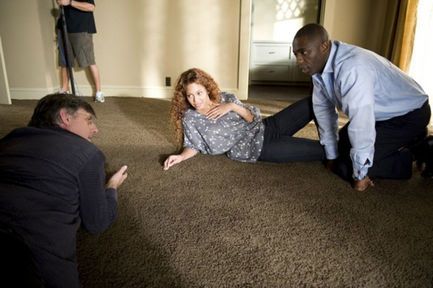 Idris Elba
says he was
in awe
of kissing
Beyonce
when they had to film their kissing scene for
Obsessed
only 20 minutes after meeting:
British actor IDRIS ELBA was left dumbstruck when he met BEYONCE KNOWLES on the set of OBSESSED - their first scene together involved a steamy smooch. The pair became close on day one, when director Steve Shill demanded they pucker up for a passionate kiss just minutes after meeting each other. Elba explains, "It was weird when I met her - within 20 minutes we had to kiss. I wasn't complaining. It was full on, we had to do these pictures for the wall and it was full on kissing. I was like, 'Oh god, I'm kissing Beyonce, I can't believe it.'" But not all the scenes between the pair were as fun to film for Elba. Idris says, "There's a scene where Beyonce goes nuts at me and that was pretty scary."
Oh Idris... And it sounds like
Deelishis
has a sex tape she doesn't want to come out:
She hit up Shade 45 recently and talked about how she hopes a tape she did for her man won't leak to the internet. Womp. Pics of
CiCi
doing "Good Morning America" when you read the rest....