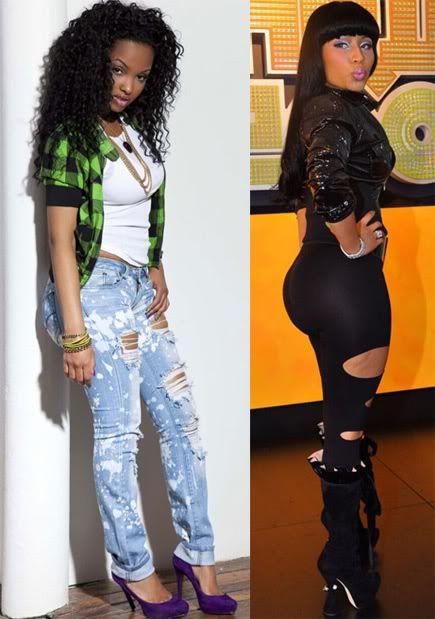 Well it was only a matter of time before the up and coming rap chicks
*shudders at that thought*
brought the beef to the game. Video chick turned rapper
"Lola Monroe"
has some words for those saying she's jacking
Nicki Minaj
's "Barbie Movement":
AllHipHop.com: What would you say to people who may think you're jacking Nick Minaj and her "Barbie movement"? Lola Monroe: I don't do the Barbie thing… that's her thing. I really don't agree with it, that's basic. It doesn't make sense to me because first off, you're basically saying I'm jacking somebody who has never been known to have their style all throughout their career. She's never been set to have her own style. It's always been set to say she's jacking Lil' Kim to Foxy [Brown] and now Lil' Wayne. So how can I be jacking somebody or using somebody's style if they never been known to have their own style. That part never made sense. That's one. Another thing, it kind of comes from Wayne is in the foundation of my music and what I've listened to him for years and years. So you can hear his styles in my music. And you know, that's her mentor and that's somebody whom she's under and so she's known to sound like Wayne. That's all they say about her now. I believe the similarities may have come from that but besides that, I have my own style, I have my own lane. She does what she does, ya feel me?
And what Lola says about her "Boss B*tch Movement":
"The boss b**ch movement" is a female empowerment movement. It basically represents the female's that are grinding right now. It represents female empowerment. It's hard for females these days. Not only in the industry, but day-to-day life. So, it's basically a push showing female strength and how we got this regardless of the obstacles we were faced with. Whether the female has a nine to five, doing school, in the club dancing, or whatever it might be. It's female empowerment."
Source: AllHipHop.com
Lola Monroe gets 1 point from me for using my new favorite word "basic" in a sentence. But these two chicks beefing about who's more basic is like 2 mistresses fighting over a married man.  Let that m
uuri
nate.  Just sayin'.... Speaking of Lola, her mentor
50 Cent
released a teaser for his "Do You think About Me" video with
Viv Fox
:
Check it.
Willie
of
Day 26
clears up the
Cocktail
cheating drama when you read the rest...