Shaunie Claps Back At Shaq+Dog The Bounty Hunter's Victim About To Sue+Checking In With Whitney Houston+Beyonce Covers Cosmo
​
Nov 09 | by Natasha
​ ​ ​ ​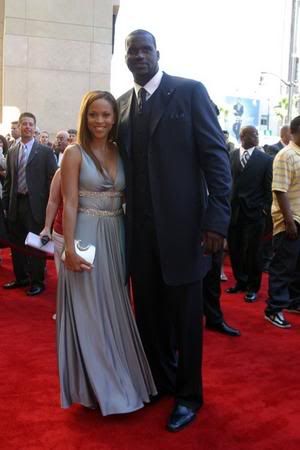 Shaunie
is ready to get at
Shaq
about
his
secret ish now.
She filed papers yesterday
demanding to see all of Shaq's assets and to get a closer analyzation of his $100 mil contract with the Heat. It doesn't state why but I'm sure all the allegations and check-ups he's putting out there about her these days has something to do with it. YBF exclusively reported weeks ago about Shaunie biting her lip in response to Shaq's very public lies about her. But it looks like she's ready to fight back.
YBF also reported a couple weeks ago
that Shaq was selling the Miami mansion to
A-Rod
from under her and the kids . And
in Tuesday's edition of the Daily Business Review
--the interest in selling to A-Rod was confirmed.
Monique Shinner
(pictured above),  the girlfriend of 
Duane "Dog" Chapman's
son 
Tucker
, is about to get sue happy.  She tells the
National Enquirer
:
"I want justice," Monique told The National ENQUIRER. "He has slandered me, stated that I have bad character and repeatedly lied about me on national television. If I'm ever going to hold my head up in public again, I need to stand up for what is right."
And she's pissy about all his lies too: 
I have had threats from his fans. I have been hiding, afraid to go out. After Dog's slander against me, my boss told me they might require that I take a drug test. I have never done drugs. Dog said on television that I had a plan to jump (his wife) Beth and hoped to tape her using racial language. He said he saw me and another girl in a car outside his shop, wearing tank tops. I never wear a tank top, I have never been in that parking lot when they were at their bail bond shop and I certainly wouldn't jump Beth. I weigh 105 pounds! She'd kill me!
She goes on to talk about how Dog constantly talks racist ish about her:
They use the 'N' word all the time. Once, Beth said to Tucker, 'If you want to smoke, you can go over to your n----r girlfriend's house and smoke.' Beth's as much of a racist as Dog is.
So she's about to sue his ass.  Maybe it was the dumbass "I want to be buried by George Washington's slaves to show just how sorry I am" comment by Dog that pushed her over the edge.  Just maybe.... Look who was spotted looking spaz free in LAX yesterday: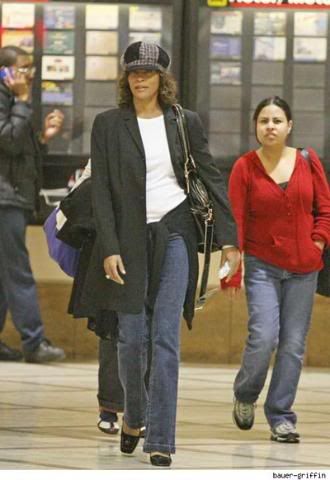 Pics: TMZ.com/Dailystab.com
Mama Whitney
.  Keep it up mama. And
Bey
is rocking the cover of the December issue of
Cosmopolitan
:
Pic: JJB via Faded Youth
Fabulous.  And the rest of the layout of her showing off the new HOD dresses are over at
Faded Youth
.
​ ​
​ ​ ​