Oh Really Serena...and Common?
​
Nov 27 | by Natasha
​ ​ ​ ​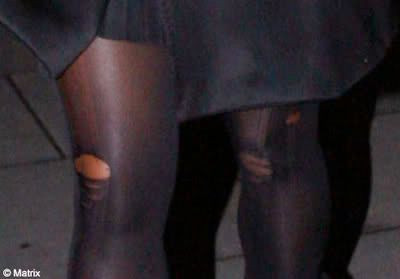 This ish is not a
Britney Spears
swagger jacking. Serena's stockings are all ripped up...at the knees...as she was just spotted out and about with her new rumored beau
Common
. And that mess looks like it was accidental. What REALLY was going on there Rena and Common? And
where's Jackie?
And
Kerry Washington
? Because Kerry and Common know damn well
they were extra hugged up
all around The Wood a month ago. Rumors even started buzzing about Common and
Alicia Keys
having a lil something going on. And I refused to be believe it. Whatev. According to the
Daily Mail
:
The 26-year-old reigning Australian Open champ was seen returning from a night out with rumoured new beau, rapper Common, to her swanky St. Martin's Lane hotel, in London's West End....The pair...were spotted holding hands recently and getting "very close" at a party hosted for her sister Venus Williams, to celebrate the launch of her clothing line 'Eleven', at popular New York nighclub Tenjune...A source revealed that the couple were sitting together the whole night and didn't try to conceal their growing closeness.
Let me find out Common and co. are ho'ing it up around those Hollywood parts... The Randomness:      1. Oh fabulous ones: I'm leaving tonight for a week long Paris vacay so the postings will be a bit off schedule. No worries...things will be back to normal next Monday. Thanks in advance for your patience! Stay fabulous!
​ ​
​ ​ ​