Go To Work Fanny+Erykah Badu Talks Honey+Naomi & Alicia Make Appearances
Dec 12 | by Natasha
This is beyond CP time Fanny.  The folks at Browadway are pissy that Fantasia is causing havoc at their box offices since she's missed 50 shows since her summer debut.  Their policy is to refund a patron's cash or re-ticket them for another day if the star is out.  And it's been happening way more often than it should.  According to the NY Post: 
Since the American Idol began dropping performances, producers have refunded tens of thousands of dollars worth of tickets. Fantasia did show up for work the day the strike hit and sang for disappointed fans outside the theater. News of her impromptu concert reached Sardi's, where a group of Shubert executives were lunching. Said one, acidly: "There's no show, and she's out there singing. Now if we could get her to perform when there is a show, we'd be in business." Sources say Fantasia's out a lot because she's simply not up to the grueling Broadway schedule.
Damn Fanny.  I never believed those pregnancy rumors before, but ummm....
Erykah B. is talking about her new single "Honey".  Check it:
Her nu amerykah album drops February 26th.  Can't wait.
Alicia K. looked fabulous in her bluish purple HL dress and matching shoes last night: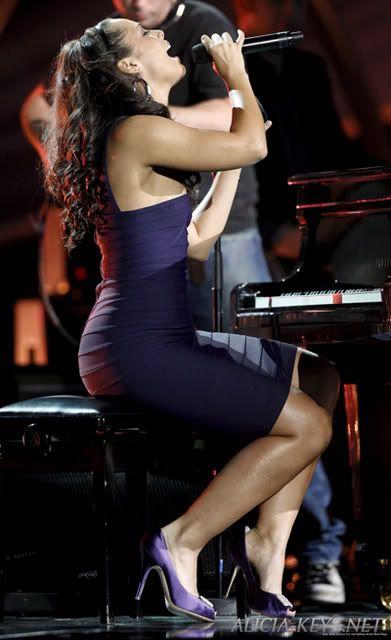 She performed at the Nobel Peace Prize concert and looked like she tore it down.
And Naomi Campbell just learned that karma's a b*tch: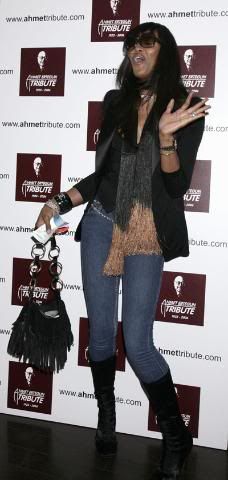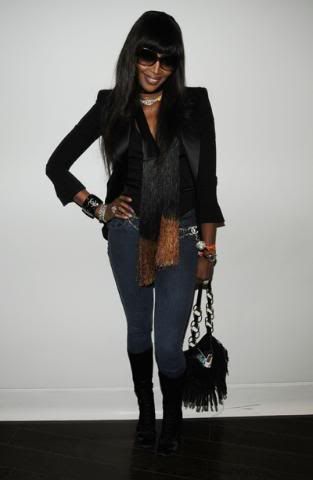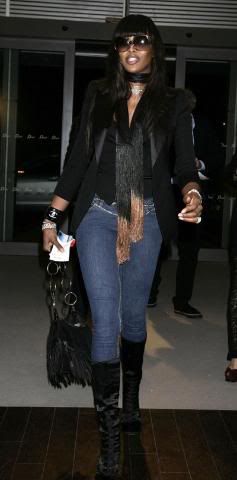 She hit up the Led Zepplin reunion concert last night and got her cell phone jacked.  Somebody stole the phone with everybody's number in it--Jay-Z, Beyonce, Nelson Mandela, Claudia Shiffer, and tons of other folks.  Stop throwing your sh*t and this wouldn't happen Na Na.
The Randomness:
1. In the Who Cares? news of the day...Solange Knowleshas officially left from under Papa Knowles' thumb and has signed with Geffen Records. Her new album Hadley Street Dreams drops the second quarter of '08.