Jamie Lynn Spears Drops The P-Bomb…And Jacks Shitney's "WTF Chick of 2007" Title.
​
Dec 19 | by Natasha
​ ​ ​ ​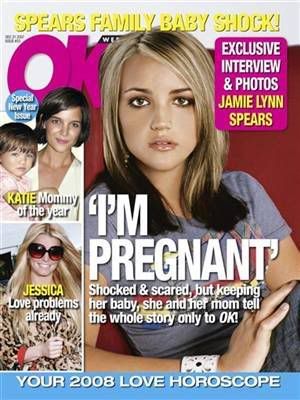 Hot Damn!  It's official: Birth Control is simply the name of a drink to the Spears family.  In the non-YBF news of the year, 16 year old Jamie Lynn Spears is pregnant.   In the new issue of OK! magazine hitting shelves tomorrow, Jamie Lynn AND her momma give an exclusive interview about her pregnancy.  It's said that the father is Casey Aldridge-her boyfriend whom she met in church.  This ish just broke and OK's website crashed.  She for damn sure can kiss that tight deal she had over there at Nickolodeon goodbye.  I, for one, thought she was actually about to do things the exact opposite from her sister.  But it must be something in the water.  Vodka...rum...something.  Anyways, shouts out to the crazy kids over at Oh No They Didn't for breaking the story.  Nickolodeon has since confirmed the pregnancy.
UPDATE: MSNBC has gotten some quotes from tomorrow's issue:
After taking a home pregnancy test, she hit up the doctor's office and found out she was 12 weeks. Then kept the pregnancy to herself:
"As soon as I found out for sure from the doctor, I took two weeks to myself where I didn't tell anybody," she says. "Only one of my friends knew because I needed to work out what I would do for myself before I let anyone's opinion affect my decision. Then I told my parents and my friends. I was scared, but I had to do what was right for me."
She says her mom was extremely upset at first, but now is very supportive. Also, Jamie Lynn plans to raise the baby in her home state of Louisiana — "so it can have a normal family life."  Seriously?
​ ​
​ ​ ​