Rihanna Gets A Half Million Dollar Tip+Chris Stokes Strikes Again--But Is Still Chillin' With Raz B?+Hammer Doesn't Go Away
​
Jan 03 | by Natasha
​ ​ ​ ​
TMZ
caught these fools on camera for a convenient photo/video op when they were leaving the restaurant together. Raz was talking about "We love each other man!" WTF material indeed.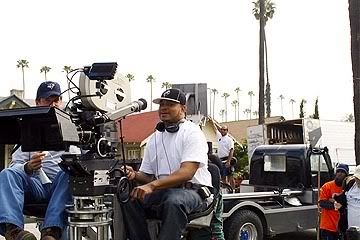 Meanwhile...another youngin' came forward about
Chris Stokes'
pedophilic ways.
Newbistar
reports that someone wrote in explaining what Chris did to him when he was 16 years old:
"I met Chris back in 1994. I was sixteen at the time. I was a waiter at a restaurant in L.A. The woman who Chris was having lunch with asked if I modeled or anything like that. I told her no, but the conversation sparked between the three of us. Chris gave me his card and told me to contact him when I got off work. I did. That's where it all started. At the time, my mother wasn't around much and I was half-assed going to school. I waited tables for spending money, but I was basically a broke kid from Ingleside wanting to have all the things Chris had. I told Chris that I wanted to be in the music industry, although I never really had any vocal training. Chris told me he was forming a group with two guys and two girls and I had the look that he was looking for. He told me that talent wasn't important as long as I was eye candy. He made it very obvious that he found me attractive. The topic of me working with him professionally never really manifested into anything more than time killing conversations that usually lead to sex. The affair lasted until late 1997, right around Christmas. I realized then that I was only a toy and he didn't really care about me. I told him I didn't want to continue the relationship. Chris tried to buy me by promising to buy me a BMW. I declined. I knew he was married to a woman (Omarion's cousin **his aunt, actually**) and living a lie and I no longer wanted to participate. After that, I fell into a deep state of depression, began using drugs (cocaine) and you know what came next... prostitution. I started working for a gay escort service in the summer of 1999. The ads that the service ran hinted that the male escorts were "barely legal". One day, my boss calls me and tells me that he had a date for me. I go to the location that I was sent to; room 820 at a very regular hotel in Los Angeles. I knock and guess who answers... yup, Chris. He was just as shocked as I was. Of course, I went in and made the money because I had a habit to support. The one thing that stands out in my head about that night is Chris mentioned over and over again that he thought he'd be getting someone much younger. By the way, I was only 21 at that time. When the Youtube videos came out of Raz B and his brother making those claims, I knew they were all true. It's only a matter of time before others come forward with their stories. I'm sure we're not the only ones. Of course, my situation was consensual, I'm sure there were/are others who have a different story to tell."
Damn. In case you missed it:
So
a Russian billionaire decided to rain $500k on Rihanna
 just for her to fly over and perform a 40 minute set for his Holiday event. That explains why she skipped out on all her former boss' NYE activities at the 40/40 club. But the advertisement for this lil extravanganza is the best part about all this:
The best coverage of the party last week was in Tvoi Den, which headlined its article "Deripaska Gave Abramovich a Black Woman for $500,000."
And according to some, her concert was hella boring:
A blurry photograph in Tvoi Den shows Abramovich looking bored, and a reporter wrote that he "observed the young people having fun with his famous half-smile, quietly dancing on the spot."
I coulda told him that and saved him 500 stacks.
Hammer is reportedly about to embark
on a $27.5 billion profit venture--being a dance machine. This ought to be good... The Randomness:
So it looks like The YBF's speculations were right.  Paul Pierce's fiancee Julie Landum is indeed preggers. 
​ ​
​ ​ ​