Ray-J's Got A New Chick?
​
Feb 04 | by Natasha
​ ​ ​ ​
Look who was spotted with his chick of the moment/soon to hit a video store near you chick:
Sources tell YBF
Ray-J
and this mystery woman were extra boo'd up all night:
So me and my girls were in the Hawaiin Tropic Zone club on Saturday night in NY, and we saw RAY J...not really to our surprise he was with this white girl...who we found it is Jen The Pen from "DJ Whoo Kid's G-Unit Radio" which I believe is on Sirius Satellite Radio.  They were dancing, all touchy feely and for sure left together.
And now they're both in each other's
Top Friends lists on myspace
-the universal sign of "our jumpoff activities now may have feelings involved".   Whatev.  I wonder what
Meelah
from 702 has to think about that?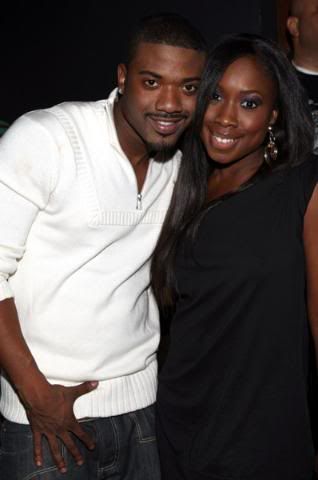 Photog: Turner
I'm sure not a damn thing because their newfound friendship reeked of a one night stand in the pants type deal.  Yeah we all suspected something was up
when Meelah randomly popped up at Ray-J's birthday party
a couple weeks ago.  And Ray-J even called in to the
Miss Jones
morning
show the following morning after his party with some obvious hints that they got it poppin' the night before...and were still in the midst of it.  Check it: [audio:missjones_rayj_011708_1.mp3] Dude never ceases to amaze me...
​ ​
​ ​ ​