MTB Finale Gossipish: Dawn & Q Get It Poppin'+Robert's "Junebug" Comes Clean+Diddy's BIG Announcement
​
Mar 23 | by Natasha
​ ​ ​ ​
All kinds of ish popped off at the Making The Band 4 season finale taping last night: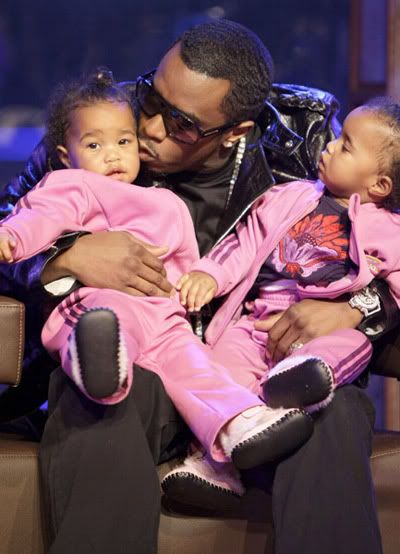 And YBF NY correspondents Kisha and Tichanda were on the scene to get the scoop. Click read the rest if you're down for some possible spoilers...
Sway hosted and of course replayed all of the hook-ups in the house and asked each person to explain what was going on. When Dawn was asked about the status of her and Q, she stuttered and blushed and couldn't get her words together. Finally, in made-for-tv-but-still-pretty-real fashion, Q busted out with "I want to claim Dawn." He then proceeded to ask Sway if he could get up and kiss her. Bump the quick peck, the two definitely tongued each other down on the stage! Damn. And they're most definitely on couple status for all of you wondering. Dawn could barely get a word in after the show while getting interviewed by The YBF without Q strolling past and grabbing her hand with long stares at each other. I personally think it's all kinds of cute. But I'll spare them a meshed celebrity couple name for now.
Brian dished to us that the fights with him and Robert were edited to look more crazy than they actually were. And DK, who was showing serious love to the fans and media, took time out to dish to The YBF their outlook on the new album . They say that it took much more time than shown to convince Diddy that theDanity Kanealbum needed to be more "them". Mmhmm.
The infamous "Junebug" makes an appearance. Yessir, Junebug-the chick that had the myspace page saying Robert and her were married on that memorable premiere. She confessed/confirmed that they were never married and were not together at the time that she had all of that foolishness posted on her page. The thirstiness of some folks...
Diddy brought along the twins D'Lila Star and Jessie James as well as the rest of the kids. But I hear he was quick to pass off the kids to the nannies (yes, each baby has her own nanny) each time the cameras stopped rolling. And the heart-breaker of them all:
Looks like the rumors are true. Will definitely had his main chick in the building (who he only referred to as "baby" on the show) and was even spotted sharing a kiss. Folks in the place were buzzing with info that she's indeed his wife (and baby's mother?). I can only wonder why he's keeping that little piece of info on lock...
The ladies loved them some Donnie. And note to Aubrey: Donnie's dad was overheard post-show fielding questions about Donnie's relationship with you. His take: "Yeah, Donnie likes Aubrey, she's a good girl. But Donnie likes a lot of girls!" Let the saltiness ensue. And we've got the scoop on what Diddy's "BIG ASS" announcement is that he keeps talking about and will announce tonight:
Photog: Ach/Wireimage
Aside from Welcome To Dollhousehitting number 1 on charts this week, he's taking Danity Kane, Day 26, and Donnie on a nation wide tour. It will all be reality tv for a new season of MTB-Making the Band 5. Gotta give it to this dude for pimping what he does best. Creating music groups who create dollars. A few exclusive pics:
Producer Sevenwas there in his grandma's wig and cataract shades looking like foolywang material. Dude is still talented as all hell though.
I hear the finale show was pretty fab all in all. And it airs tonight on MTV.
​ ​
​ ​ ​