Bigga "Wedding" Updates From The Inside
Apr 05 | by Natasha
Sources are reporting
the goings on from inside the wedding/party spots. There were gorgeous flowers, family, and friends. Check the pics: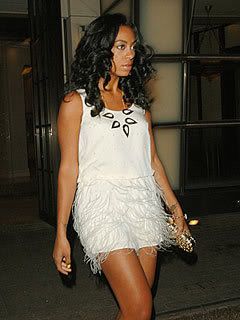 Solange Knowles
exiting the Bloomberg Building tonight and on her way to
Jay-Z'
s Tribeca penthouse (an alleged wedding or reception locale).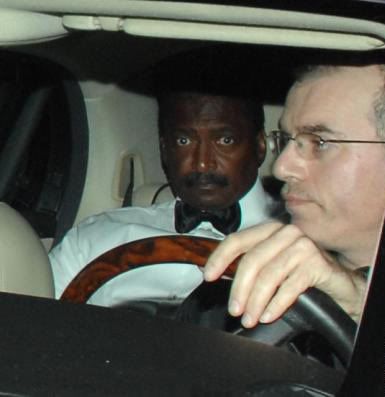 Matthew Knowles
spotted arriving via car to the Tribeca penthouse.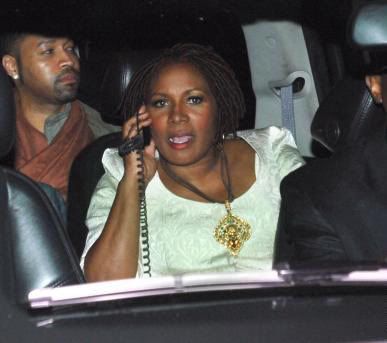 Another attendee (who is NOT
Gloria Carter
despite reports) spotted arriving via car to the Tribeca penthouse (also wearing a formal white dress).
Pics source: Pagesix.com
Reports say the party was definitely elaborate and very secretive. The couple even reportedly prohibited all attendees from bringing in their cell phones so people had to hand their phones over to their drivers. Speaking of drivers, they were reportedly hired just three days ago and were not told what for. I just don't see all this going down simply to celebrate Jay signing yet another deal with a company like they want us to believe. I'm still going with this being some type of wedding/reception/wedding like party. Even if it all fizzles to be a hoax. And it doesn't help that
DJ Cassidy
, who was hired to DJ for that night's "celebration", let it slip that he was "excited for the
Jay-Z
and
Beyonce
wedding party to happen." Snitch.
For the record: I'm not making any official statements on what all of this is or isn't. I'm simply providing what YBF correspondents and sources on the scene have passed on with my opinion or two thrown in from time to time. Nothing new about that. For the confused folks: Providing information does not necessarily mean I co-sign on it being the 100% truth. This is a gossip site. I provide the gossip. Period.
UPDATE
: Reports are stating that the happy couple is planning yet another "celebration" for the 4th of May in France. Interesting.
UPDATE 2
:
Sources are confirming
Jay-Z and Beyonce are indeed married as of Friday (4/4) evening and the small wedding party has gone back to Jay's Tribeca penthouse to celebrate. A five year wait and this is what we get? A random wedding under a tent on top of a NY roof that no one had a good inkling about until a week before. Boo.