Chilli's Back+Rumer This, Rumor That
​
Apr 24 | by Natasha
​ ​ ​ ​
Chilli
has a brand new single cover and is rocking the new cover of
Rolling Out
magazine:
Chick is still hot. News from rumorville when you read the rest...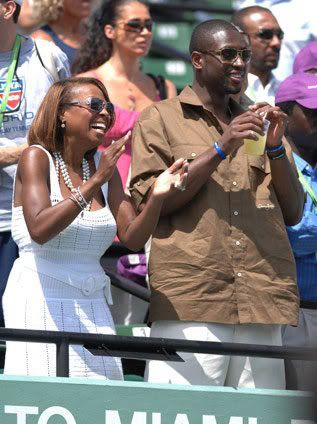 There are rumors floating
about
Dwyane Wade
and
Star Jones
gettin' it poppin' as a new couple. While they have coincidentally seen popping up together at events like tennis matches (above) and parties for months, I don't co-sign on the rumors at all. Star's people have denied it (but seeing that she still adamantly proclaims
Al Reynolds
is straight I tak e that with a grain of salt) and honestly I'm just not getting that word from my own sources--or my own eyes. Things seem purely platonic and until we get more evidence--that's my story and I'm sticking to it...for now. But let me find out D-Wade is tappin' that and I will indeed be on *
blank stare
* mode for about a week.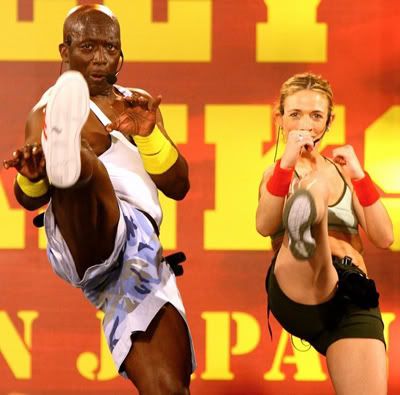 Billy Blanks and his daughter Shellie Blanks
In the who cares news of the day,
Billy Blanks
' wife
has filed divorce papers and cited "irreconcilable difference"
. Either she got tired of his ass yelling all the time and lying about how many more reps she had left...or his irrelevancy is too much to handle. Possibly a combination of both.
Jordin Sparks
isn't the only one sitting out some of the upcoming
Alicia Keys
tour dates. Alicia herself
is cancelling her shows next week
due to stressed and swollen vocal chords. The shows were in Cleveland and Pittsburgh.
Kanye
was spotted courtside at the Lakers game last night. Looking extra solemn. Maybe he was just mad
he was booked on a Southwest Airlines flight
for this morning. I guess that new travel site of his ain't helping' out nan a bit.
​ ​
​ ​ ​